Sensors for extremes
OndoSense measuring technology is headed for industrial application
Freiburg, Mar 15, 2018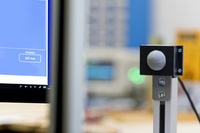 Photo: Jürgen Gocke
The Freiburg startup OndoSense produces sensors which take precise measurements even under extreme conditions. Supported by the university's startups office, the new company has received a German government grant.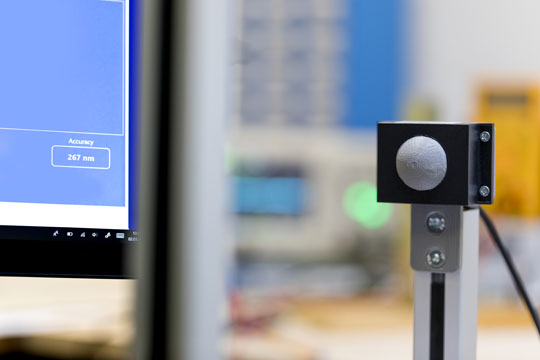 OndoSense sensors make extremely precise measurements even under extreme conditions - and are therefore interesting for industrial enterprises.
Photo: Jürgen Gocke
Freiburg, an unadorned industrial building near Besançonallee: OndoSense has been based their since January. The startup company got going with the help of the university startups office - and now receives a grant from the federal government's EXIST program. OndoSense has offices here, a small workshop and - importantly - the option of renting more rooms when the company grows. "We've already moved past the garage stage," jokes Dr. Axel Hülsmann, referring to US tech firms which started out in somebody's garage before going on to become big and famous.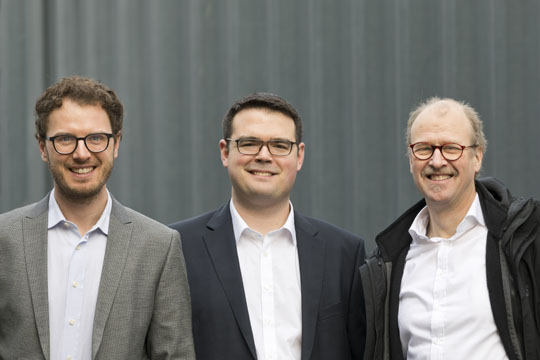 Mathias Klenner, Bernhard Schöne-Remmeau and Axel Hülsmann (left to right) of OndoSense are to receive an EXIST startup grant.
Photo: Jürgen Gocke
Promising prototype
Hülsmann is the senior on the three-person OndoSense team. He was part of a startup in Berlin a while back. But above all he has many decades of expertise as a researcher at the Freiburg Fraunhofer Institute for Applied Solid State Physics (IAF). Together with a team which included OndoSense co-founder Dr. Mathias Klenner, Hülsmann conducted research at the IAF most recently on sensors which use radar to take measurements – an extremely precise method which even works under extreme conditions. "Industry was enthusiastic about our prototypes," he remembers. "They asked straight away: Who is going to market this?" That got us started. Of those in the IAF team, Hülsmann and Klenner decided to take the plunge into self-employment with OndoSense. For the business side of things, they teamed up with Bernhard Schöne-Remmeau, who Klenner knew from his student days.
Industry 4.0
"Imagine a steelworks" - Schöne-Remmeau outlines an example of how OndoSense technology could be used - "It is hot and humid in there. That's bad for measuring equipment - if it is not based on very expensive X-ray technology." For this reason, steelworks use visual monitoring. As a result, the rolled steel is not exactly the right size and requires further processing steps. "But our sensors measure accurately to less than a millimeter even under conditions like that," Schöne-Remmeau explains. That means the technology helps save on material and labor costs. "In addition the sensors communicate directly with the rollers and the other machines," adds Hülsmann, "It's Industry 4.0." This kind of automatic, self-regulating processes are more efficient and safer than processes supervised by humans. Human monitoring can always lead to mistakes which can shut down a production line for a whole day.
Lively startup spirit
Before the sensors can be produced, the OndoSense team has to first sort out the legal foundations - by establishing a limited company (GmbH). The EXIST startup grant is intended for just this phase. The grant of 139,000 euros will tide them over the initial period in which the company has yet to make any money. "We were supported on the path to commercial independence by the University of Freiburg startups office," Hülsmann says. It was possible because team member Mathias Klenner was doing his doctorate at the university. Hülsmann describes the office as "very professional, very well organized," "We feel we are in good hands there." They sat down together and fine-tuned the business plan; the office also assisted with the application for the EXIST grant. "In addition they offered tutorials and seminars at which we met other new entrepreneurs," says Schöne-Remmeau. He talks about a band who wanted to learn how to take their cultural services to the public. These meetings were a lively mix, he says: "It was exciting, you could hear the beating heart of the entrepreneurial spirit."
Successful elevator pitch
And there were certainly practical applications for OndoSense. The events outlined how to write a business plan and how to pitch a good idea - that is, how to present it in a structured way to convince listeners. That had worked for OndoSense - as shown by their successful participation in the "Start-up Elevator Pitch" Baden-Württemberg 2017. The 300 euros in prize money is more symbolic than anything – but it is a sign of how well the public received the business idea.
"But the best reason for economic success is of course an excellent product," says Hülsmann with a grin. In all modesty, he believes OndoSense in on the right road. Extremely precise measurement technology, not too expensive to produce, and tailored to the needs of the digital economy: "I think we will find our place in the market."   


Mathias Heybrock