No More Than One Hundred Euros
In the Design Lab, Microsystems Engineering students develop new products and build prototypes
Freiburg, Aug 09, 2018
Photo: Thomas Kunz
A cheerful babble of voices wells up. In the foyer of Building 101 of the Freiburg Department of Microsystems Engineering (IMTEK) there is a welcoming conference-like atmosphere. On the walls there are a dozen display boards; in front of them are items on show, with people flocking around and chatting excitedly. Some of the ideas appear quirky – pain-relieving acupressure insoles, intelligent beer mats, automatic watering systems for dry pot plants or fields, systems that announce new post of the traditional sort. Students on the Microsystems Engineering Master's degree have dreamed up the projects and developed prototypes in the MST Design Lab.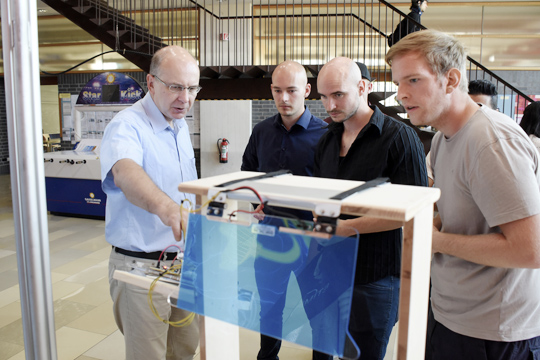 All equipment must provide its own energy, and the material costs must not exceed 100 euros: Peter Woias (left) inspects a prototype. Photo: Thomas Kunz
"The MST Design Lab is about gaining practical learning experience," Prof. Dr. Peter Woias emphasizes. He is organizing the lab for the third time. Students use it to found virtual companies, incubate product ideas and transform them into real technology. "They have a year to do it," says the Professor of Construction of Microsystems. Other guidelines include: all equipment must provide its own energy, in other words it must be self-sufficient. The materials must not cost more than 100 euros. "But sponsoring is allowed," says Woias.
So this raises rather unusual questions for the student participants: Does the idea already exist as a product? Is there a market for it? How do we organize ourselves into a team, and how do we make sure we follow all the guidelines? The Design Lab ends with the presentation in the foyer, which draws a lot of guests. Amongst them, Woias inspects the prototypes. Finally, he will assess the projects, "They don't all achieve every goal." Theory and practice are two very different things. But developers have to learn not to despair the moment something goes wrong.
A transparent visor
Denis Gebauer from the Smart Sun Protect project does not appear despairing in the slightest. Together with Passar Bameri, Kai Mühlbach, Mark Schepperle and Jagan Srinivasan he has built a car sun visor that looks unusual: it is transparent! "When the light hits it, it automatically changes from transparent to opaque," explains Gebauer. And it works: it darkens in an instant. Behind it, there is less than one-tenth of the light intensity and a hundredth of the UV radiation. "Drivers can look directly through our visor at the midday sun, without being dazzled," Gebauer declares proudly.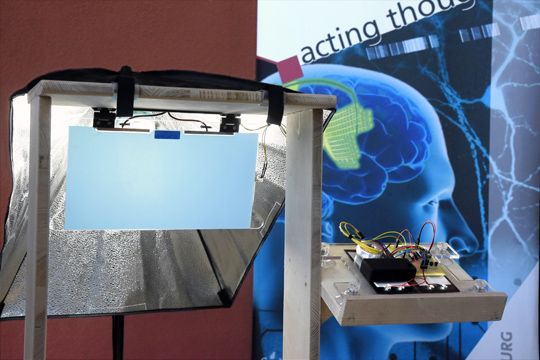 The Smart Sun Protect transparent sun visor uses elongated liquid crystals that become opaque in light. Photo: Thomas Kunz
The milky clouding is created by elongated liquid crystals. When it is bright, they align and close up like slats on a venetian blind. Otherwise they lie in parallel and vertical. This allows light between the crystals. "Until now the principle has only been applied as a privacy screen for buildings," says Mark Schepperle. Now, with Smart Sun Protect, all types of vehicle can be retrofitted. The ideal would be to integrate liquid crystals directly into windscreens. "It's also suitable for visors on motorbike helmets," says Schepperle: smooth graduation of the opacity is entirely possible. The team are contemplating other applications and improvements, "We're already considering how we should proceed."
Another drink, please!
A few tables away, Drink Mate is waiting for someone to empty their glass. As soon as the level in the glass falls below 20 per cent, the intelligent beer mat automatically sends the order "Same again!" by wifi – as long as the glass is placed on the right side. The other way up, Drink Mate sends the message "Service please!" when the level drops. Every step of the development was a challenge, explains Anna Kutsch, "Finding components, keeping the energy consumption down …" The beer mat obtains its electricity from the difference in temperature to the drink in the glass, regardless whether it is hotter or colder. When it is fully-charged it holds enough energy for a hundred orders. "It would only be a problem if guests only had drinks at room temperature," says Kutsch.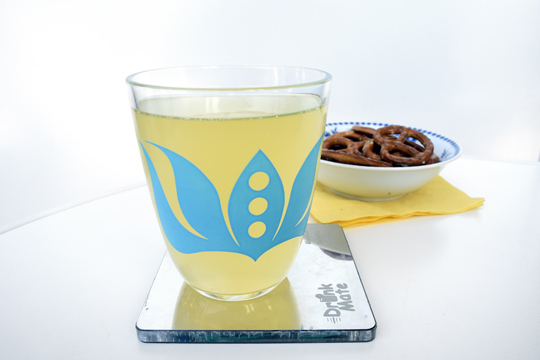 The Drink Mate intelligent beer mat automatically sends the order for another drink by wifi, as soon as the level in the glass falls below 20 per cent. Photo: Thomas Kunz
Drink Mate is not really intended for revelers with speech difficulties. The mat is supposed to simplify work in bars and deliver the welcome liquid to thirsty customers faster. "Drink Mate could also be used by dialysis patients to control the amount they drink better," Kathrin König muses about additional applications. König, Kutsch, Jasmin-Clara Bürger, Tim Cammerer and Larissa Schiedel want to continue developing their clever coaster, if possible to a finished product.
Relying on tutors
As the assessor, Woias likes the broad spectrum of ideas, "The level of professionalization has also risen." Even details such as the layout of the circuit boards and the casing from the 3D-printer are appropriately designed. "We also had more sponsors this time," says the Microsystems Engineer, "The third Design Lab has gone very well." He stresses the major contribution made by tutors to the lab's success. Peter Woias explains that PhD students from IMTEK have worked closely with the teams and supported their projects, "Without their commitment we wouldn't have a chance of offering a course like this."
Jürgen Schickinger