From your cell phone to your favorite laundry detergent
The start-up "Telocate" creates a type of GPS for interior spaces
Freiburg, May 18, 2017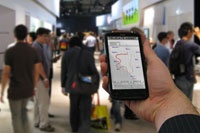 Photo: Fabian Höflinger/Telocate
The start-up "Telocate" creates a type of GPS for interior spacesTelocate, a start-up from the University of Freiburg, is designed to lead people and machines to specified exhibit items, trade show booths, products or other destinations – using the shortest route possible. Its precision is better than comparable systems, claim the inventors. Users merely need a smartphone. The idea is catching on: the technology foundation Biomed awarded Telocate the 2017 Freiburg Innovation Prize.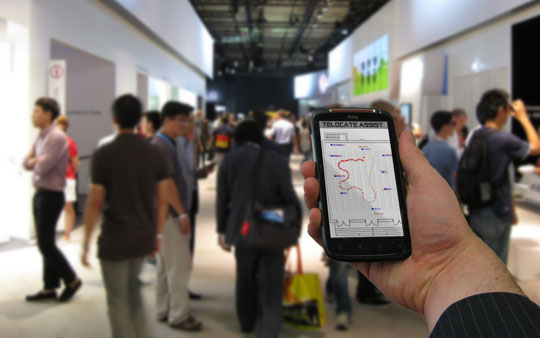 The system should guide users to their desired destination using the shortest route possible – and it does well even in crowds.
Photo: Fabian Höflinger/Telocate
The basic technology Telocate ASSIST is a type of GPS for interior spaces. GPS navigation devices and smartphones calculate their locations with signals they receive from multiple satellites. ASSIST distributes the labor in reverse: Users send acoustic signals to tiny receivers with their smartphones called anchor nodes. Many of them hang in the respective rooms, typically from the ceiling. The anchor nodes pass along signals to a server, which calculates the position of every user and sends signals to it via the wireless network. "We can locate them down to precisely 10 or 20 centimeters," says Dr. Fabian Höflinger. "Other technologies can only provide a precision of about three to five meters within buildings."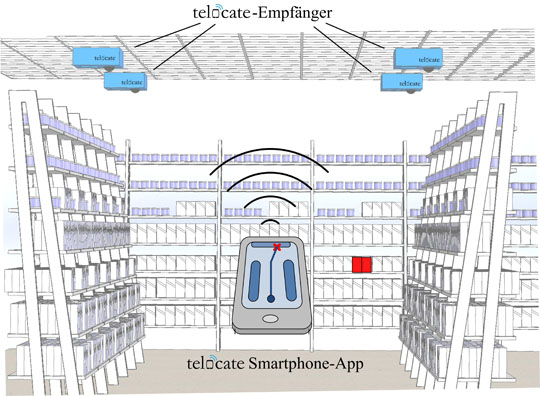 Unerring path to your favorite product: Your smartphone sends signals to tiny receivers that are typically installed on the ceiling. These anchor nodes pass along signals to a server, which calculates each user's position and sends them to it through the wireless network. Photo: Fabian Höflinger/Telocate
Höflinger and Dr. Johannes Wendeberg, the CEO of Telocate, met at the Faculty of Engineering at the University of Freiburg. Both of them were nearing the end of their dissertation on indoor localization. Microsystems engineer Höflinger had a strong technical background while computer scientist Wendeberg specialized in algorithms. A perfect combination of expertise and perspective. In 2014 they co-founded the company Telocate for interior navigation systems. "We already have a consistent revenue stream," says Wendeberg.
The system recognizes echoes
The ASSIST system is precise and multi-purposeful, maintain the inventors: it can guide people through winding trade fair grounds, museums, supermarkets and similar labyrinths. It can even help people locate their favorite laundry detergent, a stand with the best brush manufacturer or to that desired piece of art. The appropriate text would automatically sound out through the audio guide as you stand before the Mona Lisa, people with walkers would no longer have to fear a sudden confrontation with a set of stairs, nursing care robots would find the right nursing home patients and the forgetful would be brought immediately to their car in enormous parking garages.
Even the hustle and bustle before the Mona Lisa wouldn't disturb ASSIST because it uses echoes as bits of information. It is enough when crowds, statues or partitions stand in the way between sender and receiver, says Höflinger, "Our system works with ultrasound." It spreads relatively slowly so the space of time between echoes and tones is rather large. ASSIST can differentiate between the two. "The system recognizes what an echo is," says Höflinger. "That isn't possible with other available technologies. "Radio waves, upon which GPS is based, simply move too quickly. For short distances, signals and echoes can't be differentiated, creating an entangled mix of waves.
Safe orientation for the blind

Telocate has installed a test system at the Freiburg trade fair grounds. "Ultrasound doesn't irritate dogs," says Wendeberg. And ASSIST can reliably guide blind people through trade show halls whose slick floors barely offer solid points of orientation. The system will soon have to prove itself in everyday situations as well. The staff of a large culinary chain should soon be able to locate buzzers that the guests take to their tables as they wait for their orders. A supermarket chain is also interested. It wants to create "heat maps" to locate shopping carts, thereby offering data on where and for how long customers linger.
Telocate now has 15 employees. ASSIST is almost ready for market. "We are taking the final steps," says Höflinger joyfully. He estimates that the development will have cost nearly three million Euros by the end of it. Before founding their company, the duo had taken business courses in the founders' office at the University of Freiburg. They also received valuable support from their doctoral supervisors, Prof. Dr. Leonard Reindl and Prof. Dr. Christian Schindelhauer. But after having gathered three years of business experience, Höflinger underestimated the effort it takes to run a business and manage staff. "It was a blind leap into the deep end."
When Goliath copies David
But no regrets here. Höflinger and Wendeberg like the flexibility of being entrepreneurs. Along with their basic technology, they want to expand systems with particular specifications such as those who calibrate themselves. The team realizes they are competing with the giants in the IT industry. "They will start copying us if we are successful," suspects Höflinger. But the Freiburg duo wants to avoid a battle between David and Goliath. "In that case we'd rather sell." As long as the price is right, there would be no reason to be sad about it.
Jürgen Schickinger