Digitization for the mid-sized companies
The University of Freiburg joins forces with 19 other partners to create "DIGI Hub Südbaden"
Freiburg, Feb 09, 2018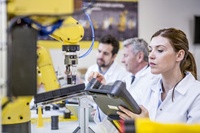 Foto: Westend61/Fotolia
The University of Freiburg is one of the regional partners in the DIGI HUB Südbaden consortium that has been designed to support small and mid-sized companies in their digital transformation. The construction of a digitization center has been planned for this purpose.

Photo: Westend61/Fotolia
In the future 20 regional institutions, projects and initiatives will support the digitization of small and mid-sized companies through DIGI HUB Südbaden.
The Founders Office in the Center for Technology Transfer at the University of Freiburg will participate in the development of digital business models and contribute significantly to the topics microsystems, measurement technology, health, information and communication technologies and materials. "In addition, the University will be involved in guiding decisions in the steering committee of the DIGI HUB," explains Dr. Philipp Julian Köster, director of the Founders Office.
A digitization center should serve as a hub for skills, services and infrastructure. The center should have multiple offices to provide as many companies as possible access to counseling services and information. The so-called "hub" has been planned in the Lokhalle in Freiburg, the site of the old freight yard in the northern part of the city.
The State of Baden-Württemberg gave the idea for the construction of such a center the green light during the Digital Summit 2018, offering its blessing for its realization. The DIGI HUB Südbaden is thereby one of ten projects for which a total of six million euros has been approved. The project will be managed by the Verein Klimapartner Oberrhein, headquartered in Freiburg. The University is also presented by the organization.
Pascal Lienhard
Founders Office at the University of Freiburg (German)