Cross your heart
15 start-ups present their business models in three minutes during the Elevator Pitch 2017 event
Freiburg, Nov 20, 2017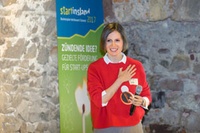 Photo: Tibor Dufner
From inventor to millionaire – many of the participants in the business plan competition Startinsland 2017 most likely have that desire. During the elevator pitch, 15 young entrepreneurs are allowed to present their ideas and concepts in brief talks. At the end of the evening, the visitors vote for their favorite. The most popular presentation receives the people's choice award. At the beginning of December a jury of experts awards the main prizes from the entire competition totaling 25,000 euros.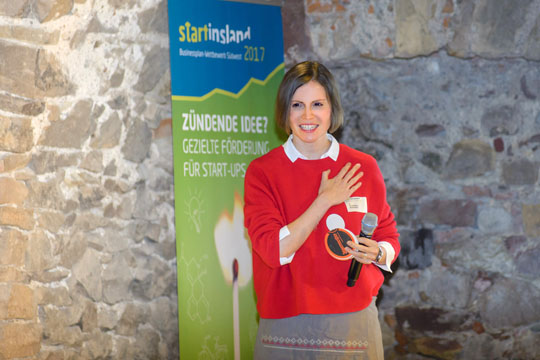 The cardiologist Sonja Mayer wants to improve patient treatments with the app "MyHeartBeat".
Photo: Tibor Dufner
"I'm feeling a bit tense," says Christian Hirth just minutes before it's his turn to present. In just a moment he and computer scientist Frederik Böhm will be presenting "DeepVA", which stands for "deep video analysis". "Our software automatically recognizes people, brands, texts, colors and many other objects in videos," explains Hirth. Video archives are able to be categorized, and later searched, according to multiple criteria. "Up until now people had to watch the entire video from beginning to end," says Hirth, who graduated from Offenburg University of Applied Sciences with a degree in media communications. The founders of "DeepVa" met there. "Our software is based on artificial intelligence," emphasizes Hirth. The program enables very thorough video analysis whose target audience is the media industry. Potential users, however, can be anyone who has a video or image archive.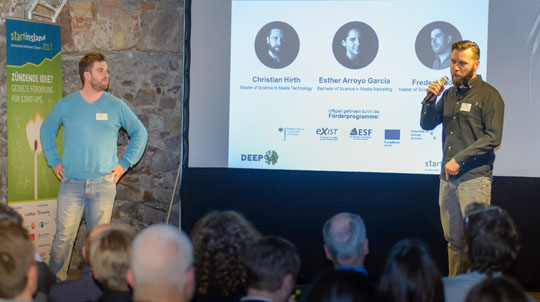 Frederik Böhm (left) and his colleague Christian Hirth have developed a software that automatically recognizes and classifies people, brands, texts, colors and other objects in videos.
Photo: Tibor Dufner
Sonja Mayer seems a bit frazzled: "It's because of the A5." The doctor was afraid to be too late because of the traffic jams on the autobahn. She works at the Max Grundig Clinic perched on the "Bühlerhöhe" above Baden-Baden. Together with Dr. Qian Zhou from the University Heart Center Freiburg – Bad Krozingen, Mayer has founded "MyHeartBeat". The start up seeks to improve heart patient treatments with an app. It reminds patients to take their medication on time, renew prescriptions, maintain a healthy lifestyle and the like.  "We want to help patients understand their complex treatments and to be able to follow them," explains Mayer. In addition, the "MyHeartBeat" app records parameters such as blood pressure and heart rate, interprets the data and sends off a warning if the numbers change dramatically.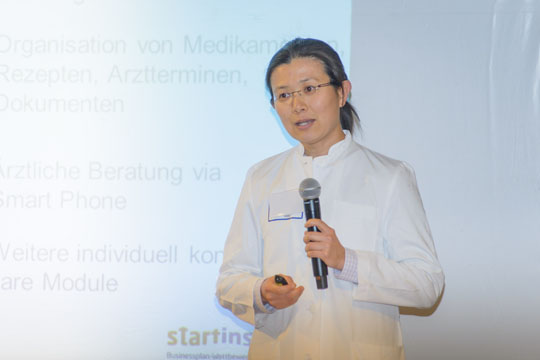 Qian Zhou explains what patients need to pay attention to after heart surgery. The app "MyHeartBeat" can help remind people to take their medication and maintain a healthy lifestyle.
Photo: Tibor Dufner
A lot of ideas for many branches
The Peterhofkeller in Freiburg is bursting at the seams on the evening of the presentations. More than 40 start ups had submitted their concepts for the Startinsland competition by June. Later, as requested, 31 young companies each completed 20-page business plans. The jury selected 15 of them as the most promising start ups to do an elevator pitch. They want to gain a foothold in sectors such as measurement technology, sustainable cleaning products, medical technology, production of photovoltaic modules, bicycle technology, laboratory equipment, sports partner mediation, microfluidics and others.
Together with Florian Schmitt from the Freiburg software company Haufe-Lexware, Rodica Schmidinger and Niko Bausch, who both work at the Founders office at the University of Freiburg, act as moderators throughout the evening.  The trio opens the competition at shortly after 8pm. Each team has three minutes to talk, followed by a three-minute Q&A in which the jury is allowed to ask questions first. Experts from the financial, medical technology, IT, pharmaceutical and other sectors sit in front of the stage in the first row. Then the audience gets to ask questions.
Feedback on the frontlines
"MyHeartBeat" is participating for the first time in the pitch competition. "We want to present our ideas in an entertaining way," says Sonja Mayer. Although the competition is important for her and Qian Zhou, it is more of a side-event: Their app will be launched in the first quarter of 2018. "We hope to place well, nonetheless," says Zhou. But to be on the frontlines means to be able to withstand critical feedback, reveal potential weak points and "social skills training".
The team "DeepVa" even added last-minute details to their presentation. "We want to emphasize the essential elements and explain jargon in simple terms," says Frederik Böhm. He and Christian Hirth take the competition very seriously and hope for positive feedback. But the duo's primary aim is to gain new contacts, expand their network and find new sponsors.
The 15 presentations follow various strategies. The majority of teams select a factual presentation style. Several of them try to score points with original ideas: The slogan "gummy bears instead of syringes" provides a clear introduction for one of the lectures. Two people stand on the stage in lab coats. A visitor is asked to describe a painting by Vincent van Gogh. Everyone is then confronted with questions about details, pressure values, interfaces, lifespan, market volume, patents and the like. Every so often criticism and doubt arise. "Aren't you too late for that?" or How can start ups deal with large corporations? Combat or cooperate?
Hirth and Böhm from "DeepVa" enter the stage. They take turns speaking, introduce their product, explain that it is directed toward the media industry in order to avoid Google and its consorts. "We have SWR as our test client," explains Hirth. At the moment, the software is diligently practicing still, which is customary for artificial intelligence and "deep learning". After all, "DeepVa" wants to use the software for all of ARD, according to Böhm. Their presentation goes smoothly. But Böhm still sees room for improvement.
Mayer and Zhou from "MyHeartBeat" do the final presentation. Mayer starts out by saying: "My name is Tom Müller." She pretends to be a patient after a heart catheter operation: "My whole life has changed!" Tom Müller is overwhelmed. What does he have to do, what should he do, and what should he absolutely not do? Zhou chimes in and both take turns describing the benefits of their app. The cardiologists offer a routine introduction, telling of their planned market entry in spring 2018. "We will then start a small study about our app," says Zhou.
A lively start up culture emerges
Now it is the visitors' turn to check off their favorites on paper votes, which are collected and analyzed while the crowd strolls over to the neighboring room for the buffet. Conversation fills the room. Jurors and young entrepreneurs exchange ideas in a relaxed atmosphere, and speakers discuss their performance.
"I'm not entirely satisfied," says Christian Hirth. He noticed there were a few delays. "My explanation about the basic issues surrounding video analysis was unfortunately too long," says Hirth, clearly annoyed with himself. He and Frederik Böhm chalk it up to experience. Both regret that the third person in their group, Esther Arroyo Garcia, couldn't be there. She is responsible for leading the project and marketing for "DeepVa". "But we are thrilled that such a lively start up culture has emerged here in Freiburg," summarizes Böhm.
The same goes for "MyHeartBeat", which is led by three people. One person was missing from the presentation as well -- Lan Zhang, who has 20 years of experience in software development. "If she hadn't been in Singapore, she would have been there," says Sonja Mayer. She and Qian Zhou had to improvise because the projector stood exactly in the spot where they had originally wanted to stand. Other than that, they thought everything else went smoothly. "At the same time, I am glad it's over," says Zhou. "Now we can go back to concentrating fully on our product."
The visitors like the idea for everyday use the best: "SmartFaraday" wins the 1,000 euro people's choice award. The start up builds a networked bike pedal that measures the biker's activity and performance, sets off an alarm if stolen, maps out routes and much, much more. The award money will flow into its further development, says Konstantin Hoffmann from "SmartFaraday", summarizing: "We are placing the bicycle into the Internet of Things."
Jürgen Schickinger
Startinsland 

The University of Freiburg, the Fraunhofer Institute for Solar Energy Systems ISE, the Southern Upper Rhine Chamber of Commerce and Offenburg University of Applied Sciences jointly organize the business plan competition Startinsland, which takes place every two years - the next round is 2019.

Startinsland competition

Founders Office at the University of Freiburg