Summer heat, health and security
All employees are invited to attend the staff meeting on December 6, 2018
Freiburg, Nov 30, 2018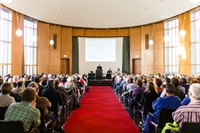 Photo: Sandra Meyndt
Starting at 9 am on December 6, 2018, all University of Freiburg staff members will have the opportunity to learn more about current developments during the staff meeting. All employees, trainees and research assistants in the Aula of Collegiate Building I. Participation is regarded as work time.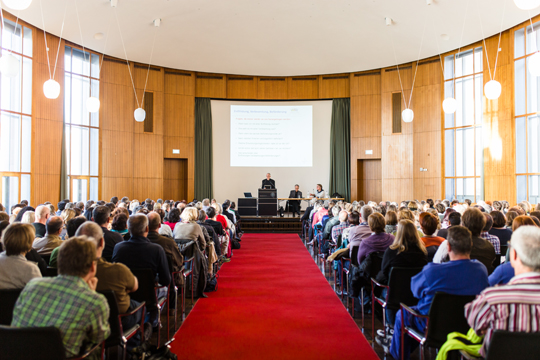 Photo: Sandra Meyndt
On the agenda is the staff council's activity report, in which various topics are discussed, including the summer heat. The discussion will focus on how the situation for employees can be improved due to climate change and what measures need to be taken in the future. Other topics include security at the University. The occasion is the installation of video cameras in the University Library to monitor the building at night. "The staff council is not fundamentally opposed to video surveillance, but in addition to its involvement and that of the data protection officer, it calls for each individual case to be examined carefully. Because it must be examined whether there are not other means, which obtain a comparable effect," says Dr. Helmut Waller, chairman of the staff council.
The staff council is up for election again July 2019. At the same time, the elections for the Youth and Trainee Representative Council (JAV) and the elections for the State Employee Council in Stuttgart will also take place. The staff council provides information on all elections and gives advice on how employees can be nominated as candidates.
Employees whose are showing first signs of health impairments that might endanger their employment have the opportunity to take advantage of the BETSI prevention program (Ensuring Employability through Participation), which will also start at the university in 2019. Julia Krawitsch from the Deutsche Rentenversicherung (German social security office) will present a combination of several measures: from rehabilitation to the implementation of those rehab measures in everyday work life. In the coming year, there will also be a new collective bargaining round for employees in the public sector in the federal states. A representative of the trade union ver.di will speak about the trade union's demands.
Alice Tátrai-Gruda