Show me!
The University of Freiburg presents insights into research at "Science Days"
Freiburg, Oct 25, 2017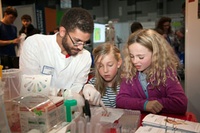 Photo: Ingeborg F. Lehmann
There is a cacophony of voices in the bus from Ringsheim to Rust. A lot of children and their parents are on their way to the Europa Park, where the Science Days are held each October - a festival of knowledge for young and less young inventors and discoverers. Visitors can build, experiment, and research to their hearts' content in three big exhibition halls. Among the more than 80 exhibitors from industry and research, the University of Freiburg has also set up its mobile mini labs. This year the focus is on the human being.
Lots to see - more than 80 exhibitors present their insights into science.
Photo: Ingeborg F. Lehmann
 At the Institute of Physics stand, a girl is sitting in front of several water-filled balloons which seem to contain a secret. Using an ultrasound device she plans to find out what it is. There are cards with useful hints to help her. "You can use this machine to see babies," says the young researcher. She looks up from her screen just for a moment - then continues with her diagnostic work. Meanwhile, opposite her, Constantin takes a seat on a chair which starts to spin when given a push. The boy discovers with delight that it moves faster when he holds his arms close to his body and that he turns more slowly when he stretches them out. "This is our main attraction," says Christof Bartels of the Institute of Physics, pointing to the chair with a smile.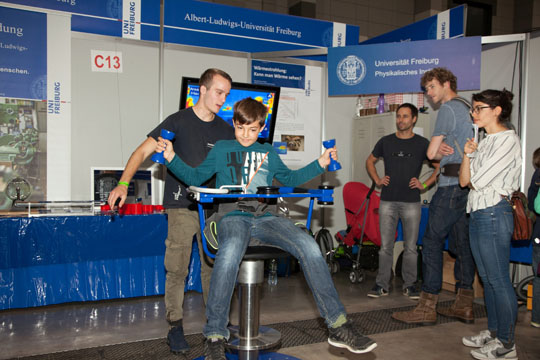 Flash of insight into physics - the chair moves faster when the boy holds his arms close to his body and turns more slowly when he stretches them out.
Photo: Ingeborg F. Lehmann
The Tower of Rust
"Oh nooo!" Eight year old Paul looks in horror at a wasteland of fallen building blocks. He and his brother are at the stand run by the Freiburg Center for Materials Research; the boys had been trying very carefully to build the tallest tower possible - as in the popular game of Jenga. But when it's university researchers who take the game down from the shelf, they change the rules. The building blocks here are made of three different materials. Along with plastic block made by a 3-D printer, there are also wooden and aluminium pieces. "You have to maintain electric conductivity throughout the tower, so there has to be a metal block in every level," explains Matthias Gliem, a doctoral candidate at the Center.
The game of Jenga in the hands of researchers gets even tougher.  Along with blocks of plastic made by a 3-D printer, there are also wooden and aluminium pieces.
Photo: Ingeborg F. Lehmann
The children can check whether the electric circuit is still working by touching the top level with a wire. Then a row of LEDs lights up, and the game can continue. Paul's brother was just trying to take a metal block from one of the lower floors when the whole tower collapsed. "We made it to 34 storeys," Paul announces proudly. "Now we're going to make one even higher," he grins and starts gathering up the blocks.
Virtual dissection
Children are gathered around a virtual dissecting bench at the stand run by the University of Freiburg's Institute of Anatomy and Cell Biology. It is shaped like a long, narrow rectangle, which has a screen instead of a benchtop. Fascinated, the children see how the display offers insights into human anatomy when you touch that place on the screen. "There you can see the ribs!" shouts one boy enthusiastically. On the touch screen they can take layers off one by one, investigating the structure of the human body. This technology has recently been introduced in anatomy teaching for medical students in Freiburg. "And do you know why the veins are shown in blue here?" a student asks one of the girls. Seven year old Malika looks at the giant screen and knows the answer. "Because there is less oxygen in them."
To the bone: The digital dissecting bench enables insights into human anatomy.
Photo: Ingeborg F. Lehmann
DNA around your neck
There's a full two meters of DNA in just one tiny cell - as 14 year old Jannik discovers at the Center for Biological Signalling Studies BIOSS stand. Visitors here can extract their own DNA and take it home in a pendant. To do this, Jannik has to chew on the inside of his cheeks a bit, so that a lot of cells will detach from the mucous membrane. Then he spits into a test tube, where the saliva is mixed with a small amount of detergent. A few minutes later, once the mixture has been warmed up, the last ingredient is added - pure alcohol. With great concentration, Jannik sucks up the correct amount into a pipette. Slowly the DNA strands become visible to the naked eye - they precipitate out of the liquid and form white tangles.
Eight year old Annika proudly displays her pendant, in which a thread-like structure floats, colored red with food dye. A similar process at the stand run by the student organization iGEM (International Genetically Engineered Machine), where DNA can be isolated from fruit. "Strawberries and bananas work best," says Niklas Vesper. "Humans have 50 percent of their genes in common with a banana." That surprises even the older visitors. Vesper was impressed by a small girl who knew why detergent is used to extract DNA. "If you can awaken children's interest and curiosity - then this is tremendous fun."
The guests go home at the end of the day with many new impressions and experiences. And even if Annika loses her DNA pendant one day - she will not forget that she has a lot in common with a banana.
Emilie Häberle