Please remove your bikes
More bicycle parking spaces are on the way - but first, the area has to be cleared
Freiburg, Apr 08, 2020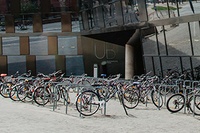 Photo: Sandra Meyndt
More bike parking in central Freiburg: The 156 temporary stands at the University Library (UB) are to be replaced; when the work is complete, there will be a total of 250 fixed stands. The University is therefore asking all users to remove their bicycles from the bike park at the UB. The University will have to clear away anything that hasn't been removed by the evening of 16 April 2020.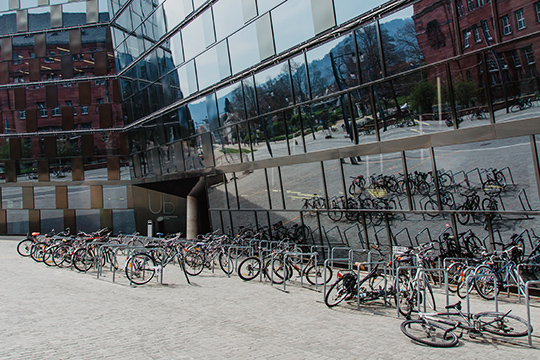 All bikes at the University Library have to go - but not for long: Soon there will be 250 stands available for 500 bikes. Photo: Sandra Meyndt
A total of 250 stands, accommodating 500 bikes, are to be installed at the Freiburg University Library - in addition to the 400 parking spaces in the underground bike park. Until now, there were only 156 temporary stands outside due to work on the library facade. The Freiburg office of the state building authority has commissioned the work, which is to start on 20 April 2020. Users must remove any bikes parked outside the University Library by the evening of 16 April 2020.
The University will have to clear away anything that hasn't been picked up on time. Bikes that still work will be stored, but their owners will have to pay a fee to get them back. If you want to collect your stored bicycle, write to kontakt@umweltschutz.uni-freiburg.de or phone Dr. Jürgen Steck, head of the Sustainable University working group: 0761/203-7970. Bikes that no longer work will be disposed of.
During the building work, the bike-parking options are limited. A number of bike parking spaces are available on university property in central Freiburg - including approximately 100 stands at Platz der Weißen Rose; approximately 50 each along the sidewalk in front of Kollegiengebäude I and at Karl-Rahner-Platz; and around 30 behind Kollegiengebäude IV. The new stands will soon relieve the situation: They are slated to be ready for use by the start of the lecture period on 11 May 2020.
Nicolas Scherger