Pay Agreements, Parking Fees, and a Cultural Shift
All University of Freiburg employees are invited to attend a staff meeting on 18 December 2019
Freiburg, Dec 13, 2019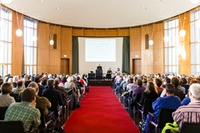 All University of Freiburg employees can obtain information on the latest issues on 18 December 2019. The Staff Council is inviting employees to attend a staff meeting in the assembly hall (Aula) in Collegiate Building I. Participation is considered work time.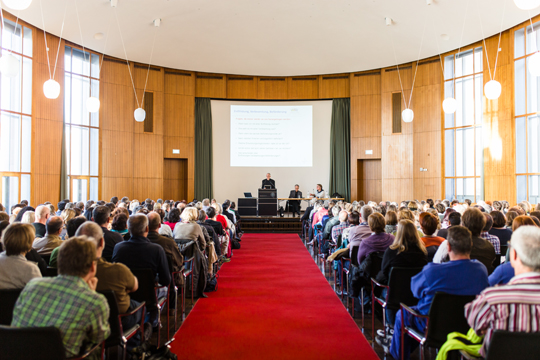 Photo: Sandrar Meyndt
At the meeting, the Staff Council will provide information on current developments at the University of Freiburg. One of the main issues is an activity report. Up to now, the university has annually carried out accelerated pay grade increases in accordance with the Pay Agreement of the German Federal States ("Tarifvertrag der Länder," TV-L). A new directive from the State Finance Ministry has, however, made this procedure subject to question. Furthermore, the fees for above-ground parking are to rise. "The Staff Council is calling for a comprehensive concept for mobility with respect to this measure," announced the chairman of the Staff Council, Dr. Helmut Waller.
What is more, the Staff Council is also taking up the issue of the cultural shift at the University of Freiburg. That's been driven by the question of how, for example, the central and decentralized administration can better cooperate. The economist Prof. Dr. Stephan Lengsfeld will provide a short introduction to the topic. Waller emphasizes, "At the end of the presentation, we would like to invite our colleagues to discuss this important issue." Finally, the Staff Council will explain how the results of the last round of pay negotiations are to be implemented.
Patrick Siegert
For more information (in German)