Mixing Musically with Colleagues
Rock, pop, and much more awaits the University of Freiburg staff at the "Sommerfest"
Freiburg, May 31, 2019
The "Sommerfest" offers everyone who works at the University of Freiburg an opportunity to get together off the job. For the third time in three years, the event on 6 June 2019 will offer a relaxed and comfortable atmosphere for people become better acquainted. A colorful musical medley has been scheduled for entertainment. There's something there for everyone, from disco to jazz, rock to pop, and much more. Vice Rector Prof. Dr. Gunther Neuhaus, also known as "DJ Gunther," will be joined by, among others, the choral group "Contrappunto bestiale," and the bands "Uni-Brass" and "Die Schnittchen." A few of the musicians are offering a preview of what's awaiting their co-workers.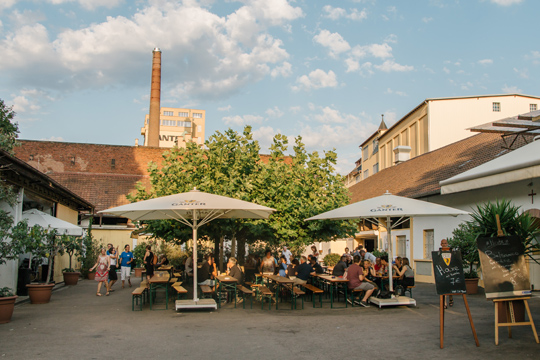 Relax and kick back in comfort: The "Sommerfest" offers employees of the University of Freiburg an opportunity to chat outside of work. Photo: Sandra Meyndt
Exuberant, exciting, and on the beat – the band "Die Schnittchen"
The Staff Council's "Sommerfest" features good food and good sounds. The instrumental band "Die Schnittchen" is making an appearance. The ensemble is made up of four University of Freiburg alumni. Staff Council Chairman and "Sommerfest" co-organizer, Dr. Helmut Waller, plays bass. The band performs rock; mainly pieces by the "Shadows" and "Spotnicks," groups that were active in the 1960s and early 1970s. "We've discovered that many young people don't know this music at all, but they think it's great when they hear it," explains Waller as he provides a preliminary look at the program. "We'll play a mix of rocking and slower songs," he says. "Die Schnittchen" have been around for six years already, but where does their name come from? Waller explains, "We always rehearsed on Sunday afternoons, and during breaks we had coffee and cake. Then, one time, we had to move the session to later on Saturday, more towards evening. That's when the question arose about whether it was still appropriate to have cake at that time. The answer was, 'no,' canapés – 'Schnittchen' were 'de rigueur.'" And the name stuck.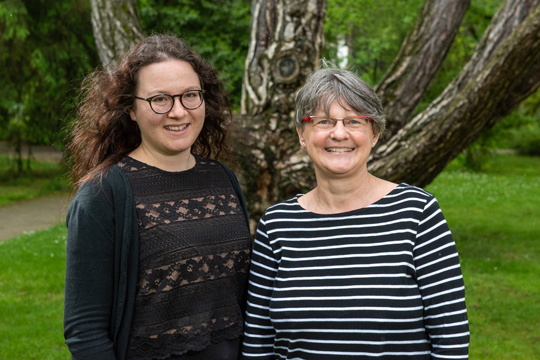 Choral group Director Mirjam Hettich (left) and singer Anne Katrin Prowse are making their third "Sommerfest" appearance. Photo: Klaus Polkowski
Colorful, compelling, and a capella – the choral group "Contrappunto bestiale"
The a capella choral group "Contrappunto bestiale" was founded more than two decades ago in the Faculty of Biology. "To start, mainly biology staff took part, but now people from all over then university and of all ages are represented," says Anne Katrin Prowse, who's been singing with them for twelve years. The name is all that harks back to the original biology choral group. "The founders named the group after a piece of music. In the tune, animals are imitated in song, and that was a really good fit with biology," explains Director Mirjam Hettich. This is the third time the choral group has appeared at the "Sommerfest." "We really enjoyed the last two times. The atmosphere was very nice," says Prowse. A pianist will accompany the group during its performance. The audience can look forward to a really colorful repertoire – including the rock number "Bohemian Rhapsody" by Queen.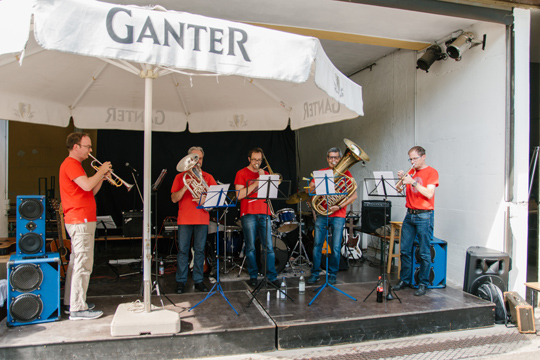 The band "Uni Brass" was founded at the first "Sommerfest." Photo: Sandra Meyndt
Creative, carefree, and cool – the band, "Uni Brass"
What happens when the press spokesman, a deputy administrator, two department heads, a professor, and one administrative and technical staff member each get together? They start up a brass band, or to put it precisely, the music group "Uni Brass." "That was a spontaneous idea for the first 'Sommerfest' held by the Staff Council," recounts tuba player Walter Willaredt. "Since then, we've played every year," he says. The group only has one rehearsal before its performance. "It's really tough to schedule a session when everyone has time. And up to now, we've always managed to do it this way," he continues. Willaredt doesn't want to say what they're going to play this year, because they won't decide until the rehearsal. "We'll try out different tunes and see which ones work well. One of them is Gloria Gaynor's 'I Will Survive'," he says. Ahead of the show, the ensemble says they're expecting to have a whole lot of fun and the audience will too – "... and that this year, like all the others, we'll have time after the performance to drink a beer together, " says Willaredt.
Lara Wehler
"Sommerfest" 2019

The "Sommerfest" organized by University of Freiburg Staff Council will take place on 6 June 2019 from 4 p.m. in the Ganter Hausbiergarten in Wodan Halle on Leo-Wohleb-Straße 4. All university staff members and their families are invited. Along with a sumptuous buffet of cakes, beverages and hot food will also be served in the beer garden. The "spielmobil" will be ready and waiting for children and there will be a plant sale as well.

Registration is requested for planning purposes.