Just Your Everyday Crisis
Cultural anthropology students have created a blog providing insight into life during the pandemic
Freiburg, May 04, 2020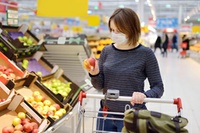 Photo: Maria Sbytova/stock.adobe.com
The coronavirus epidemic has paralyzed society while generating creative energy.  Two cultural anthropology students at the University of Freiburg, Lea Breitsprecher and Tobias Becker, have launched a blog called "Alltag in der Krise" ("Everyday Life During the Crisis"). Those who are interested can take part in the blog by submitting contributions – and better master the crisis though shared experiences.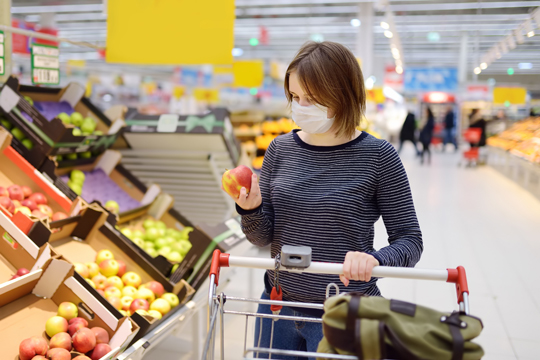 During the pandemic, accustomed routines are questioned and new rules negotiated – like wearing a protective mask for a trip to the store.
Photo: Maria Sbytova/stock.adobe.com
The daily life of many people is in crisis. The Covid-19 epidemic has placed accustomed routines that are taken for granted under question. Yet in such situations, people are also capable of developing new activity patterns or reshaping day-to-day life. Many are responding to the new challenges with imaginative strategies, whether they are working or schooling children at home, taking part in local initiatives, or in interacting digitally with their family and friends. Two Master's students at the Institute of Cultural Anthropology and European Ethnology are addressing how daily life is changing and how people are dealing with it in their blog "Alltag in der Krise." Like a lot of things these days, the idea emerged during a phone conversation.
Breitsprecher and Becker have both taken part in a seminar on resources and scarcity. When in March 2020, supermarket shelves once filled to brimming with all kinds of pasta and toilet paper were becoming more and more empty, they began to discuss how resources are used during epidemics. A short time later, they had the idea about the blog. Anyone interested could take part by writing a blog entry.
Working from a socio-cultural perspective, the students were hoping to gain a range of insights on the topic. Earlier, they had worked on their institute's "Blog the job" project, in which students wrote and published entries about their studies and planning for future careers.  What is more, both also had experience of working local beats at daily newspapers. According to Becker, a blog requires a rather different writing style than journalism.  He says, "Daily newspaper journalism aims to keep up with the very latest news, while in the blog, it's more about reflecting to get perspective on a topic. We need more than daily breaking news reports in the current situation. We also have to have articulate contemplation."
Socio-cultural notes
Scholars engaged in socio-cultural research observe expressions and forms of daily culture and examine how people shape their lives and approach challenges together. In the blog, people with different backgrounds can classify current developments and through that, gain closer understanding of the crisis and become better able to master it together. Breitsprecher views the contributions as a form of socio-cultural note-taking. She explains, "We want to look at the big picture yet simultaneously address individual questions. If we didn't do that, our view of the topic would be incomplete." She continues that students, established socio-cultural researchers, artists, and other interested people are invited to write down their thoughts for the blog, submit comments, consider the issue further, and share. "Contributors are allowed to choose their format – whether it's philosophical musings with an analytic flair, an auto-ethnographic report, or a snapshot of daily life during the corona crisis. We've published a few submissions up to now," reports Breitsprecher.
Visions of  "afterwards"
All the published submissions have one thing in common – daily life and the structure of habits, she continues. Becker says, "You can always sense the expectation of an 'afterwards' – what's going to happen after the crisis. After family celebrations without families and church services without congregations have taken place people slowly return to their daily lives even if there's some apparent resistance. As a result, many are questioning what the 'good life' is and how this can be achieved."
Like many of their fellow students, the two are taking advantage of digital course offerings and remotely working, doing their jobs as student assistants at the Institute for Cultural Anthropology and European Ethnology. Breitsprecher emphasizes that for society in general, the pandemic also offers opportunities. She says, "Many political and economic decisions are being made at the moment, and developments are being advanced, above all in the area of digitization. It would be nice if this dynamic is sustained. One thing this crisis has certainly shown us is that people are creative and capable of learning."
Patrick Siegert