Just the App for A Super Election Year
The VoteSwiper tool aids decision-making ahead of upcoming state elections in Baden-Württemberg and Rheinland-Pfalz in March 2021
Freiburg, Feb 09, 2021
Voting during the corona pandemic is a challenge for political parties and voters alike.Traditional election events aren't permitted and campaigning has shifted increasingly to the Internet. The free online voting aid VoteSwiper is there to support voters in making their decision. It also provides comprehensive information on polling and the candidates.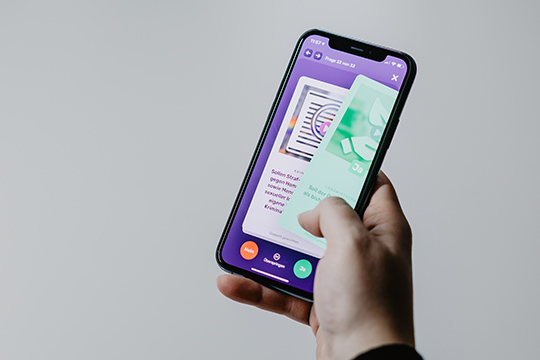 Swipe, swipe! The VoteSwiper app's aim is to aid voters in decision-making ahead of state parliamentary elections. Photo: Sandra Meyndt 
Should broadcasting license fees be abolished? Should local public transportation be free of charge? Should the legislative thresholds for referendums be lowered? Those are the kinds of questions VoteSwiper asks. The program works like a dating app. VoteSwiper users can swipe to the left or right to agree or disagree with a question it poses. The results show voters how much they are in agreement with all the parties. What is more, the 2019 German Design Award-winning voter support app features videos that present individual issues and information on the parties' platforms. The team of University of Freiburg political scientist Prof. Dr. Uwe Wagschal has evaluated the positions of parties taking part in the elections in Baden-Württemberg and Rheinland-Pfalz on 14 March 2021.
The VoteSwiper has 33 yes-or-no questions for the 17 political parties contesting the election in Baden-Württemberg. The queries encompass 18 different state political issues such as education, security, construction, immigration, finance, and local transportation. There are also questions concerning policies on the coronavirus. In Rheinland-Pfalz all 13 parties vying for votes have answered 34 questions posed for that state by VoteSwiper. After the program is finished, users receive an assessment that shows how much they are in agreement with one or another of the parties.