Hold the line, please
Anyone who dials 203-0 usually ends up with Dieter Nutto – he is the longest-serving telephone operator at the University of Freiburg's telephone exchange
Freiburg, Jan 08, 2021
Rempartstraße 11, a modest office room on the second floor, white walls, carpeted floor. Dieter Nutto is sitting at the computer. His fingers gently stroke the lower edge of the keyboard. Everything is quiet, there's no tapping of keys. As he works, Nutto doesn't look at his hands or the screen in front of him. He gazes out into space. Nutto doesn't need the monitor. He's blind. The 61 year old has been working at the telephone exchange of the University of Freiburg for fifteen years. All day long he takes calls that come in to Freiburg 203-0, and passes them on to the right department and the right contact.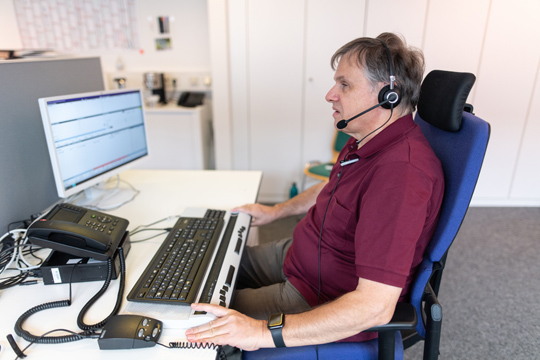 Some complain, others have odd requests, but most are friendly: for 15 years Dieter Nutto has been connecting calls received by the University of Freiburg. Photo: Patrick Seeger 
When Dieter Nutto starts up his computer the screenreader program launches automatically. It communicates every text via his headset or else to his braille terminal, which raises and lowers pin-sized points, Nutto explains. For instance, if he is looking for a number in the telephone directory, it is transmitted to him through his fingertips. "I like to read numbers with my fingers," he says. "Longer texts, such as emails, I listen to using text-to-speech. It's faster." His colleague Beatrix Doucha switches on. She sits down one place away, looks over and says, "But he knows a lot of numbers by heart anyway." Nutto laughs and says that years ago, when he was still working as telephone operator at the Emmendingen district hospital, he really did know all the numbers. "It was about 350. But the uni has several thousand." Naturally he can't remember that many. When he started as a telephone operator at the uni, he quickly realized that he was slower than his colleagues, "They simply stuck the most important numbers on a Post-it note on the screen. That was no good to me, so I had to swot."
Training for the right equipment
Nutto was born and raised in Schelingen, a village of 300 in Kaiserstuhl. As there were no specialist schools nearby, he had to leave home aged just six to go to a boarding school for the blind at Heiligenbronn. It was hard for him to leave home so young. Aged 15 Nutto moved to the vocational college in Stuttgart, where he trained as a telephone operator, shorthand and audio typist. He didn't really have a choice of career. "Options for blind people were extremely limited back then," he says. Aged 18 he started his first job, at the district hospital in Emmendingen, where he worked for 22 years until 1999. Then he moved to work in a friend's company, which provided technology used to adapt workstations for use by blind and visually-impaired people. Nutto handled the training. After three years he left the company. The University of Freiburg became his next employer.
Past bicycles parked any old how
Every morning he travels by bus from Malterdingen, where he lives with his family, to Riegel, changes to the train, travels on to Freiburg and then walks from the tram stop at the Theater Freiburg to Rempartstraße. With a white stick in his hand, he feels his way past bicycles parked any old how. He's used to going places on his own. It's important to him to be independent. At work you can't tell that Nutto is disabled. What his colleagues find out by looking at the monitor, he gets with a programmed combination of keys, helping him to navigate through the system. He keeps on top of things and finds his work enjoyable. It's partly the pace, but above all having to deal with people. "Some people you speak to quite often. So you get to know each other on the telephone." He likes that. Of course, there are also the others, the grumblers, who are always impatient. But most people you have on the line are friendly. And sometimes a bit odd: a little while ago, Nutto recounts, "a man called who wanted to pass on a meteorite from his garden to science." First of all he listened, and then he connected him to Mineralogy.
Stephanie Streif