History sitting between two chairs
The Institute of Cultural Anthropology and European Ethnology celebrates its 50th anniversary - an exhibition on 16 November provides a review
Freiburg, Nov 14, 2017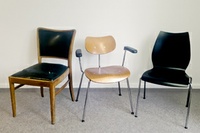 Photo: Institute of Cultural Anthropology and European Ethnology
Allemanic carneval, gothic, trades - the research fields in Cultural Anthropology are as varied as the history of the subject itself. Dr. Sarah May and her students have put together an exhibition to showcase this rich history.  What exhibits can the visitor expect? Sonja Seidel investigated.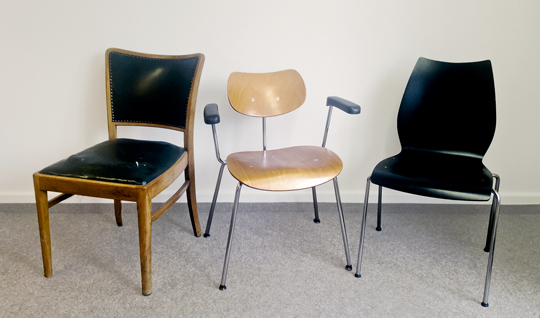 Rich in history: a collection of chairs reflects how the institute has evolved over the decades. Photo: Institute of Cultural Anthropology and European Ethnology
Dr. May, what can we expect to see in the exhibition?
Sarah May: We went through the entire Institute building looking for objects which reflected the development of the Institute. With that in mind, we took five chairs, for instance, which were from different periods. One is richly decorated, has a green leather cover and golden fittings. Another is far more modest and is from a period which focused on practical design. Taken together with the other exhibits, the chairs are a good way of showing how the institute developed. We also put on display research projects by students in previous decades - about the Vauban district, about love, the Rhine, or Carneval here in southwest Germany. What I found most interesting was the challenge of making intangible things visible. That in itself says a lot about how our subject works.
Which stories from the Institute's history were most interesting?
We talked to a lot of alumni for the exhibition; they gave us anecdotal insights into the Institute's past. For example, one of then told me that at Institute parties, everyone ended up standing around the photocopier - which was like the village well, where gossip was shared. It's these little stories I like best, and they are taken up in the exhibition.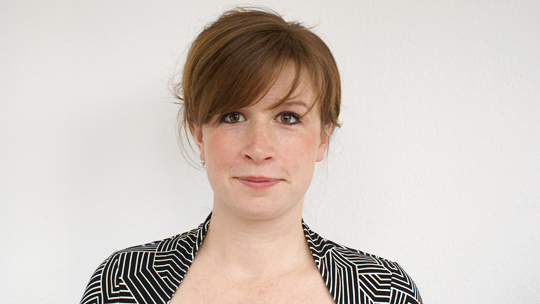 For Sarah May, the fascination of Cultural Anthropology is the perspective the subject has on the present. Photo: privat
Why should a mathematician, for instance, show an interest in the history of Cultural Anthropology?
Our subject is interesting because it has a special perspective on the present, and looks closely at day-to-day life. That enables people to see themselves differently. And that is a boon for everyone - regardless of their subject.
Join in the celebrations

To mark the anniversary, there will be a ceremony on 16 November 2017 starting at 4:30pm in the Kollegiengebäude I, Platz der Universität 3, 79098 Freiburg. Professor Dr. Silke Göttsch-Elten of the Christian-Albrechts-Universität zu Kiel is holding the keynote address on "the dangers of being a cultural anthropologist! or, subject identity as lifelong activity" (in German). The exhibition is open from 7pm at the Institute of Cultural Anthropology and European Ethnology, Maximilianstraße 15, 79100 Freiburg. Admission is free. There is no need to register.

Institute of Cultural Anthropology and European Ethnology