Freedom on two wheels
The team from Bike Bridge teaches female refugees to cycle
Freiburg, Sep 15, 2017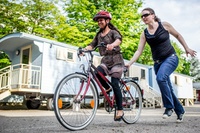 Photo: Peter Herrmann
Shahrzad Mohammadi had to ask one of the basketball players on the sports field at Bissierstraße whether any women lived at the refugee home too. She had watched him and his friends jumping and dribbling for some time and not seen any women anywhere. The man explained that they were in the apartments. "He told me that there were no leisure activities for women. Then I had a long talk with his wife," Mohammadi, a PhD student in Sports Science and Physical Education at the University of Freiburg, explains. That was the birth of Bike Bridge.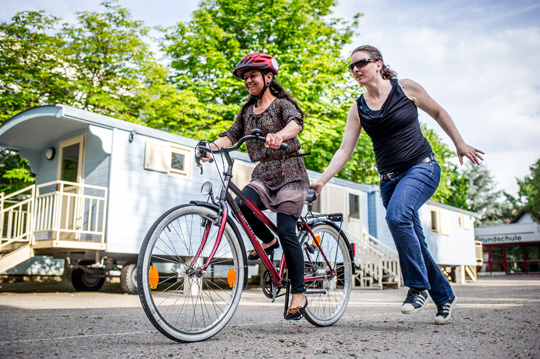 Freedom for women: Bike Bridge wants to strengthen the autonomy of female refugees.
Photo: Peter Herrmann
Bike Bridge teaches female refugees to cycle. The aim of the project is to reduce the social isolation of female refugees and facilitate social inclusion. "We increase their mobility and put them in contact with local women," says Mohammadi, whose dissertation looks at gender aspects of sport. Following her experience in the refugee home, she and her co-organizers Clara Speidel and Lena Pawelke found out that there really were no sport-related projects for female refugees. The trio wanted to fill the gap. But why specifically bicycles?

"In my country the culture doesn't allow me to ride a bicycle," explains a Yazidi woman who prefers not to see her name in print. She has lived in Germany for two years and learned to cycle with Bike Bridge. "In many Islamic countries such as Iraq or Syria women are forbidden from cycling," adds Mohammadi, "the pressure comes from society there. In Iraq it is even prohibited by law. In Germany, however, bicycles are very important, particularly in Freiburg." So cycling not only offers participants mobility but also integrates them into society. "It's given me a lot of freedom," confirms the Yazidi woman.

First walk, then pedal

The project had its pilot phase in 2016 at the largest refugee home in Freiburg on Bissierstraße. A course with Bike Bridge takes three months. Ten participants meet twice a week. Every woman gets a tandem partner as a trainer to accompany them. The groups learn the rules of the road and how to cycle, and get language lessons. In the beginning they ride without pedaling, with the women simply pushing the bicycles with their feet to get a feel for it. They also learn how to repair the bicycles. "The participants love the repair workshop: they learn and they practice – it's wonderful," Mohammadi says with delight. In the third month the group goes on cycle tours. How often they go and whether they go to a park or a museum is decided by each group for itself. Wherever they go, the women have a picnic, chat and learn a bit about that part of town. At the end of the course they can keep their bicycle.

So far there have been four courses in various residential homes. Participants have ranged in age from 20 to 65 and come from Afghanistan, Pakistan, Iraq, Syria, Iraq, Nigeria, Somalia and Cameroon. The common language is German – the trainer translates if there are communication problems. The trainers include former participants. "The group can profit from their language skills and it makes the project more sustainable: we don't just wave goodbye to the women at the end of the season," Mohammadi explains. That was the case for the Yazidi woman from Iraq, for example. She speaks Arabic, Kurdish and German, and is now helping to give her first course working together with German-speaking trainers.

Donations for bicycles and helmets

The project has already won a few national and regional awards. But the waiting list is long. And there are inquiries from Hamburg, Frankfurt and many other cities which would like to introduce the idea, but so far the project has lacked capacity. "We are trying to build up a good base in Freiburg first," explains Mohammadi.

So far Bike Bridge has financed bicycles, helmets and locks from donations. Since they lack the equipment for bad weather the courses only take place in spring and summer. Next year the team wants to offer ten courses. The latest idea is designed for advanced students: Mohammadi wants to teach mothers how they can transport their children safely by bike too.
Sarah Schwarzkopf