For a safer nightlife
The University of Freiburg is supporting the campaign "nachtsam" for partying with awareness
Freiburg, Mar 28, 2022
Nightlife has become increasingly plagued by harassment, assault and violence, which can lead women to have less fun when they go out. The campaign "nachtsam. Celebrate safely" will be drawing nationwide attention to sexual violence in nightlife from March 25, 2022. The project was initiated by the Ministry for Society, Health and Integration; the University of Freiburg is a cooperation partner. The organizers want to specifically sensitize employees in nightlife establishments and provide them with preventive measures.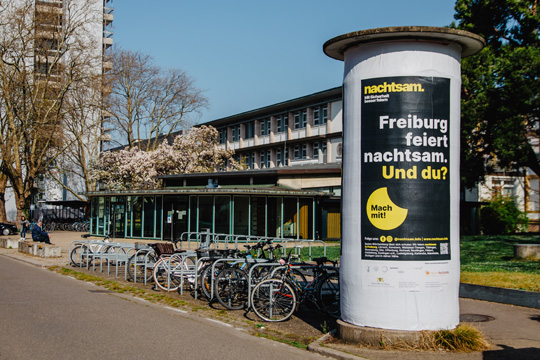 There is already a poster on the advertising pillar in front of the anatomy lecture hall that draws attention to the "nachtsam" campaign. Photo: Sandra Meyndt

As part of "nachtsam," employees in bars and clubs receive free training on the topics of sexual harassment, threats, and boundary crossing in restaurants, discos, and public places. The consultations are intended to help improve the safety of women at night and also increase employees' individual sense of security. Interested parties can register on the "nachtsam" Website. At the same time, the site provides information on which event organizers in Freiburg have already been trained by the "nachtsam" team.
The University of Freiburg supports the campaign for partying with awareness and is represented on the posters with its logo as a cooperation partner. "The University of Freiburg resolutely opposes any form of sexual harassment, discrimination and violence," explains Dr. Regina Herzog, Equal Opportunity Officer at the University of Freiburg. "That's why we are very happy to participate in this nationwide campaign and to draw attention to the counseling services we offer."
The project is based on cooperation with 14 counseling centers against sexual violence in Baden-Württemberg and was centrally developed and coordinated by the counseling center Frauenhorizonte Freiburg e. V.. In addition to Freiburg, 16 other cities in the State are participating in the "nachtsam" campaign.