First a muffin, then modal verbs
Students and refugees help one another with their assignments at the Language Café
Freiburg, Aug 03, 2017
Foto: Thomas Kunz
Spelling, grammar, pronunciation: anyone who's learning a foreign language needs to have a lot of stamina and dedication. So it's always easier when friends help you swot up on vocabulary, and that's what the student initiative "Sprachcafé" or Language Café is for. A project developed by students from the Department of Islamic Studies at the University of Freiburg and the organization Start with a Friend, the Language Café is designed to help all students and refugees and offers them a friendly forum when learning not only a language but also about cultural differences.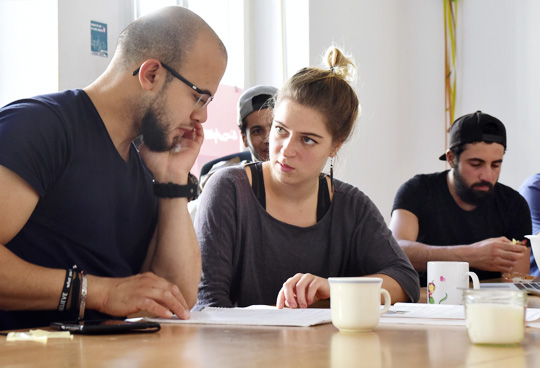 Anyone here who can explain the pluperfect? Paulina Steinhilber is in charge of the Language Café. Photo: Thomas Kunz
The conference room at AStA on Belfortstraße is rather austere for a café, but Paulina Steinhilber rapidly brings a touch of homeliness to the table: fruit, coffee, biscuits and a giant bowl of raspberry muffins. "I bake twice a week now," laughs the student of Islamic Studies. The Language Café takes place every Tuesday and Thursday, and Steinhilber is in charge of organization.
Nour Salameh is already sitting there waiting too. "I only come for the muffins," he remarks with a wink. He arrived from Aleppo in Syria just nine months ago. The engineering graduate wants to start to train as a mechanic here. "The Language Café is very important to me," he says, but not only because he has to learn German quickly – it is also important to him to get to know new people and do things together. "It might be called the Language Café, but it's about far more than languages. We also want to learn about each other's different cultures," Steinhilber explains the basic idea of the project, as she pours coffee into an insulated coffee pot. The group has already visited exhibitions, barbequed together, and even made a trip to Lake Constance.
2,200 tandem partnership schemes nationwide
The room is now filling up. Mohammad Kaboul and Muthama Al-Darwish disappear quite rapidly behind Steinhilber's laptop – researching their assignments. "I never know how many will come and what will happen," she says calmly. "I've learned it's best just to let things happen. Somehow it always works." Steinhilber is the Language Café's link between the students of Islamic Studies at the University of Freiburg and the initiative Start with a Friend. Together they set up the Language Café.
The basic idea of Start with a Friend is to arrange tandem partnerships between Germans and refugees. They use a computer program to correlate partners who have as much as possible in common. Hanno Dihle, regional head of Start with a Friend, also looks in briefly at the café. He doesn't have a lot of time. The initiative is active throughout Germany, and he is currently busy setting up new locations. At the moment they have Stuttgart, Mannheim, Tübingen and Landau in Baden-Württemberg alone. There are already 2,200 tandem partnership schemes nationally. "We also offer training for voluntary facilitators," he explains. These "befrienders" also include Steinhilber.
Theresa Hoffmann has now sat down at a table with Mouath Isharboutly. Together they rummage through texts with gaps where the verbs are missing. Isharboutly starts to practice, "I'm taking steps to study at the university," he says and laughs. He would like to study ethnology. In September 2017 he will be taking his language examination, level C1. "Anyone here who can explain the pluperfect?" Steinhilber calls out to everyone. It's not really that easy, the Germans students declare.
Shake off frustration and stay cheerful
Kaboul and Al-Darwish are now trying to help Steinhilber. "I have to write an assignment on transsexualism in Islam," she says. To help, the two Syrians are hunting through the Internet for texts by an Imam from Egypt who has spoken on the issue. "There's nothing about changing sex in the Koran," they explain, and for this reason reference is always made to such texts in the Islamic world. The two attend a class for refugees in Emmendingen. From behind, Hayyan Salman whispers something in Kaboul's ear. He laughs. "Hayyan corrected me." It's not "we meet friends", but "we're meeting friends". Salman has overcome the high language barriers and is now studying economics. He supports his compatriots at the Language Café, but right now he is helping Jana Hahn with the translation of an Arabic text on women's rights. In between they also chat about many other things. There's a lot to get used to in everyday life in Germany for the young Syrians.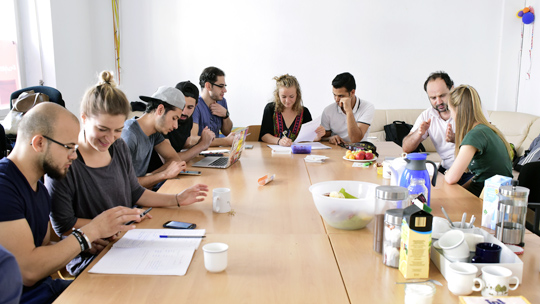 The Language Café takes place every Tuesday and Thursday. The group studies together, has discussions and sometimes goes on an outing. Photo: Thomas Kunz
Hashem Atfeh, for example, would like to start training as a physiotherapist, but he has to do a placement first. But he had difficulty finding one: since he isn't registered as a student, an employer would have to pay him the minimum wage. Now at last he has got a placement with Badenova. "We have to have a lot of patience," he says and drums his fingers on the table laughing. Refugees also couldn't get prompt help at the job center, because the few staff there are completely overloaded. "We aren't used to this bureaucracy in Syria", explains Salman. He's delighted to have found a room in a shared flat at last. "I've tried to help other refugees to find a home," explains Hahn, but when the landlords learn that it isn't her moving in but a refugee, they've always pulled out. The Language Café gives the young people the opportunity to shake off their frustration, all the same the mood here is relaxed and cheerful. There are no female refugees here today. Steinhilber is disappointed about this. "Some come now and then, but women are simply far more integrated into their families. And maybe they're a little reluctant because it's mainly men here."

Since April 2017 the German Academic Exchange Service (DAAD) has sponsored the Language Café. This is giving the team the chance to launch a women's project – a café just for women. "We are very happy about the sponsorship as a whole, because we don't want anyone to have to pay anything here," emphasizes Steinhilber. From autumn 2017 her fellow students Theresa Hoffmann and Lena Kranz will be taking over the organization of the Language Café. Steinhilber is leaving for a year studying in Iraq.
Petra Völzing
Join in!

The Language Café takes place on Tuesdays from 4 p.m. to 6 p.m. in Room 3101, Collegiate Building III, and Thursdays from 2 p.m. to 4 p.m. at Belfortstraße 24. Anyone who is interested is welcome to attend; no need to register. From early September to the start of the winter semester in October 2017 the Language Café is closed for holidays.

E-Mail: sprachcafe@start-with-a-friend.de

Language Café
https://en.startwithafriend.de/locations/freiburg