Between Compression and Expansion
The book Platz da! (Move over!) documents how Freiburgers view their growing city
Freiburg, May 24, 2018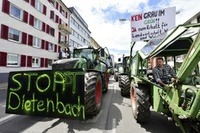 Photo: Thomas Kunz
For two semesters the Freiburg cultural anthropologist Dr. Sarah May, along with her students Katharina Roeb and Raffaela Grimm, examined the advantages and disadvantages of having a growing city such as Freiburg redensify and open up new areas. The result was the book Platz da! Praktiken urbaner Verdichtung (Move over! Urban Densification Practices) that the group is presenting at the josfritzcafé on June 6, 2018 starting at 8:30pm. A short city tour provided a taste of the findings they made.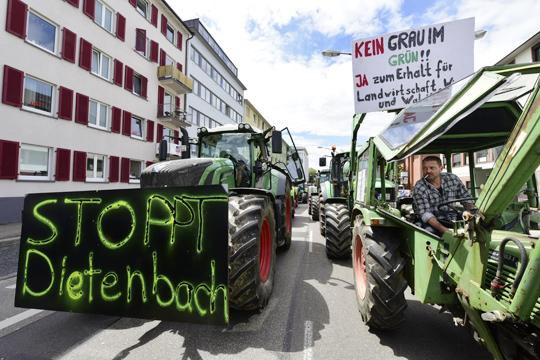 "Stop Dietenbach:" Farmers protest against redensification in Freiburg West. Photo: Thomas Kunz
 From the main entrance of the city theater, a sweeping view over the somewhat unfamiliar vastness of the Platz der Alten Synagogue provides the eye - and perhaps also the soul – with a feeling of openness. Then a yapping mutt jumps up from behind. A greeting for the newly arrived guest at the latest urban meeting place? No. He nips at the extend hand, meant to be a friendly gesture, suggesting the visitor must have crossed an imaginary line. In response, the dog had to defend his territory. The dog's master gives a whistle, leaning lackadaisically against the theater doorway, ushering the dog back into his arms while waving at the newcomer that the coast is clear now. There is enough room for everyone. Right?
According to the latest survey from January 2017, the mathematical response to that question is as follows: the population density in Freiburg is 54.5 people per hectare. Statistically speaking, every city dweller in Freiburg has 183 square meters of personal space. If you think about your own home, you realize statistics are not everything. The questions about how much space a city has and for whom, are much more complex. Meanwhile, Sarah May and both students Katharina Roeb and Raffaela Grimm have gathered in front of the theater. During their short tour through the city center, they want to address the relationship between  space and the associated perceptions of the city dwellers themselves.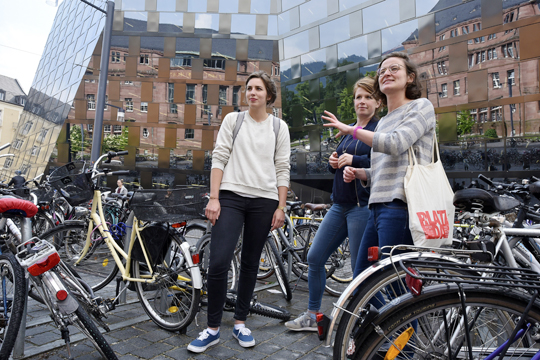 Urban meet-up in front of the University Library: Raffaela Grimm, Sarah May and Katharina Roeb (from the left) talk about a particularly popular public space. Photo: Thomas Kunz
Space for Nothing
But why would the group meet on the seemingly airiest space in Freiburg to discuss urban density? "There is a real need for public spaces, especially in a city in which personal space is so hard to come by and the most affordable housing is often much less than what you need or to which you are accustomed," says Sarah May. "They should fulfill the need to engage in activities you cannot do in your own four walls." For those who cannot find an apartment with a balcony or garden, whose once sprawling backyard has been used to build even denser housing or who can no longer afford an additional room for entertaining guests conducts personal interactions in the public arena.
Today various booths provide games and slides for diversion and entertainment -- an outsourced children's room because they have none of their own? A stage is standing in front of Collegiate Building II upon which the first band has started to rock and roll. But, Raffaela Grimm discovered, in what she calls her observations "extended exposure of urban space," that people often do relatively simple things on this plaza. They meet up and sit on the wooden benches. Grabbing a few rays on this rainy day is less appealing, but people are eating and drinking anyway. These everyday activities led to an unexpected finding in Grimm's study: "When asked what they do on the plaza, a lot of people gave the same answer: 'Nothing at all'." And: "Open spaces for this so-called nothingness are important in order to perceive urban density as something positive."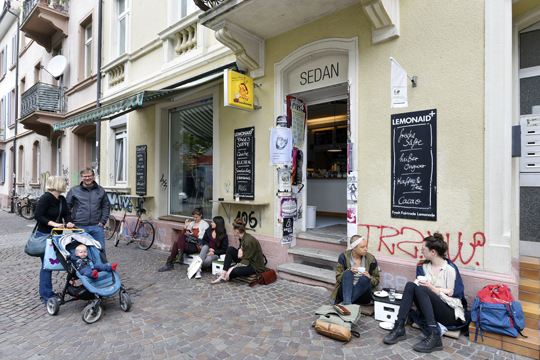 Cappuccino and baby carriage: The cultural anthropologists consider the Green Quarter ("Grün") in the city center to be a gentrified neighborhood. Photo: Thomas Kunz
Slurp a chai latte, worry about housing
"You can call it everyday density: everyday practices that tend to be separate elsewhere intersect here. For example, skaters on their 'piazza' next to parents eating with their children," adds Katharina Roeb. She continues the tour at the central area where the stacks of bicycles are the densest in front of the University Library. From there, the tour continues to Café Sedan, where Roeb spent time researching. Meanwhile, the usual, more student-oriented afternoon clientele has gathered there. As casual as the café may seem from the outside, the unspoken norms are very characteristic. Roeb can distinguish between various usage times: "At half past eleven, it's mainly mothers, students at around two o'clock and men who drink chai latte in the evening." The Green Quarter is a typically gentrified neighborhood. Some share their excitement over a few cappuccini that they can afford the rent for that newly renovated family apartment, even if the zero-waste shop on the corner is too expensive for them. The others are shopping at Norma and are worried that their apartment will be removed from the rent-controlled roster soon.
Young hipsters have recently discovered the traditional pub Litfass around the corner. Well past midnight, those left over from the old days lament that everything was better back then and, in the same breath, proceed to list which houses they own and why they are demolishing them to build something new. Roeb calls the technique "Narratives Interview" with which she has gained many insights on long nights at the regular's table.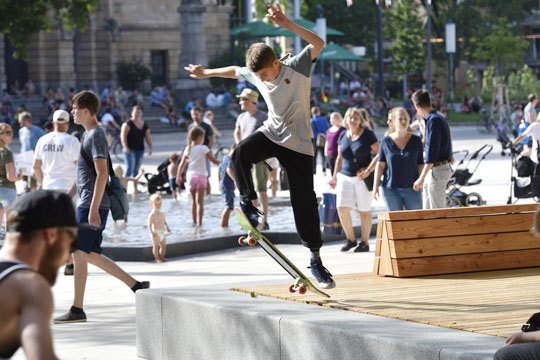 Everyone on the piazza: everyday practices that would happen in different places elsewhere intersect on the Platz der Alten Synagoge. Photo: Thomas Kunz
Critique from the city's outskirts
In front of the scaffolding on Moltkestraße, which is most likely a harbinger of the next stroke of density gentrification, the question remains about how the urban strategy on the outskirts of the city is being perceived. The farmer, whom Sarah May had interviewed about the effects of urban expansion on the area called Dietenbach, took a clear stand: "Why does a huge parking area have to wrap around a hardware store? Why does the city have to go that far and consume so much land, if there are other options instead?" Farmers have a similar problem with land as tenants have with inhabitable space: both are scarce. Farms usually only own typically 20 to 30 percent of the land they work. What is lost are leased areas for which there is no compensation. Some landlords no longer work the land and sell it at prices nobody can afford. And for what? May summarizes the mood in the surrounding area: "For a district that, once again, only rich people will be able to afford."
Jürgen Reuß