A Day for Planning the Future
The first Career Day (Karrieretag) will give students of all disciplines the opportunity to network with companies
Freiburg, Jun 25, 2018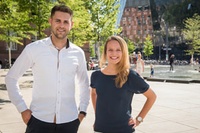 Photo: Klaus Polkowski
An event by students for students – that's what Career Day is all about for the student association Contact&Connect. Set to take place on June 29, 2018, Career Day is intended to provide students and graduates with ideas for what to do during and after their studies. Many companies and start-ups from the area as well as student initiatives will be ready to talk to students at Platz der alten Synagoge. There will also be lectures about careers in the nearby lecture rooms, and students can have their pictures for job applications taken by a professional photographer and their application portfolios checked by a career advisor.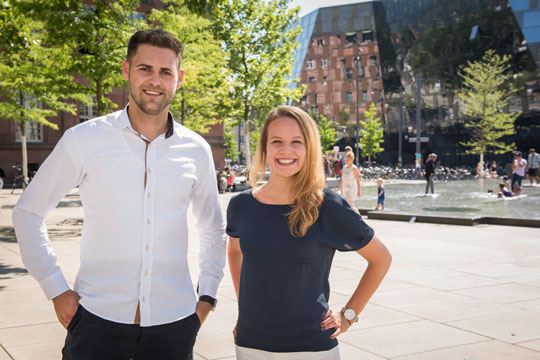 Helping students to acquire skills that are often overlooked in the classroom: The students Alexander Bierer and Johanna Harlacher of Contact&Connect are two of the organizers of Career Day (Karrieretag).
Photo: Klaus Polkowski
The event was originally born out of the realization that something was missing. "Unlike other universities, Freiburg hasn't had a career day yet," said Alexander Bierer. Only the law students have such an event. "We thought it was unfortunate that there wasn't one for the other students. After all, the University of Freiburg has many degree programs that should interest companies." Bierer is one of seven students who took matters into their own hands, and after a first meeting in October 2017, the group founded the association Contact&Connect together with a former graduate of the University of Freiburg in the middle of January this year. Most of the organization of Career Day has been the responsibility of four students: Bierer, fellow business administration major Johanna Harlacher, and two students of economics. The group is also supported by the association Freiburger Wirtschaftswissenschaftler e.V. (Economists of Freiburg).
Bierer and Harlacher are positive that the new event will satisfy a need. "Especially in the economic sciences, it's important to look for internships or a work program already while studying," said Bierer. The two students stressed that the event is for all students and graduates of the University as well as other higher education institutions in the area. The team hopes that the career day will provide students with skills that are often overlooked in the classroom. "With the exception of career-oriented skills courses, we're not really prepared for everyday work. This includes writing a resume and doing job interviews," Bierer said. This is where the association wants to help. "The day also represents the University of Freiburg to a certain degree. It shows that the University is interested in students finding jobs later."
Big Plans
If all goes well, Career Day will take place once a year and continue to grow. "We want to increase our staff and move to a larger location in the long run," Bierer said, but for now the association is pleased with Platz der Alten Synagoge. "The square is so central, everyone will notice the event," Harlacher said. As the premiere of event grows near, the team is getting excited, but also a little nervous. "We have a plan B and a plan C," said Bierer with a smile. "But we hope that plan A will work. The day is our baby. We're anxious to see what people think."
Pascal Lienhard