The 2023/2024 academic year has begun
Rector Prof. Dr. Kerstin Krieglstein addressed the topic of "University of Freiburg 2030" in her speech
Freiburg, Oct 18, 2023
The 2023/2024 academic year has begun: The ceremony followed by the award ceremony traditionally took place on the first Wednesday after the start of the semester. All University of Freiburg members as well as the general public were invited to the event in the Paulus Hall and the St. Paul's Church. The keynote speech on the topic "Academic Freedom and University Organisation: Two Different Worlds?" was given by Prof. Dr. Peter-André Alt.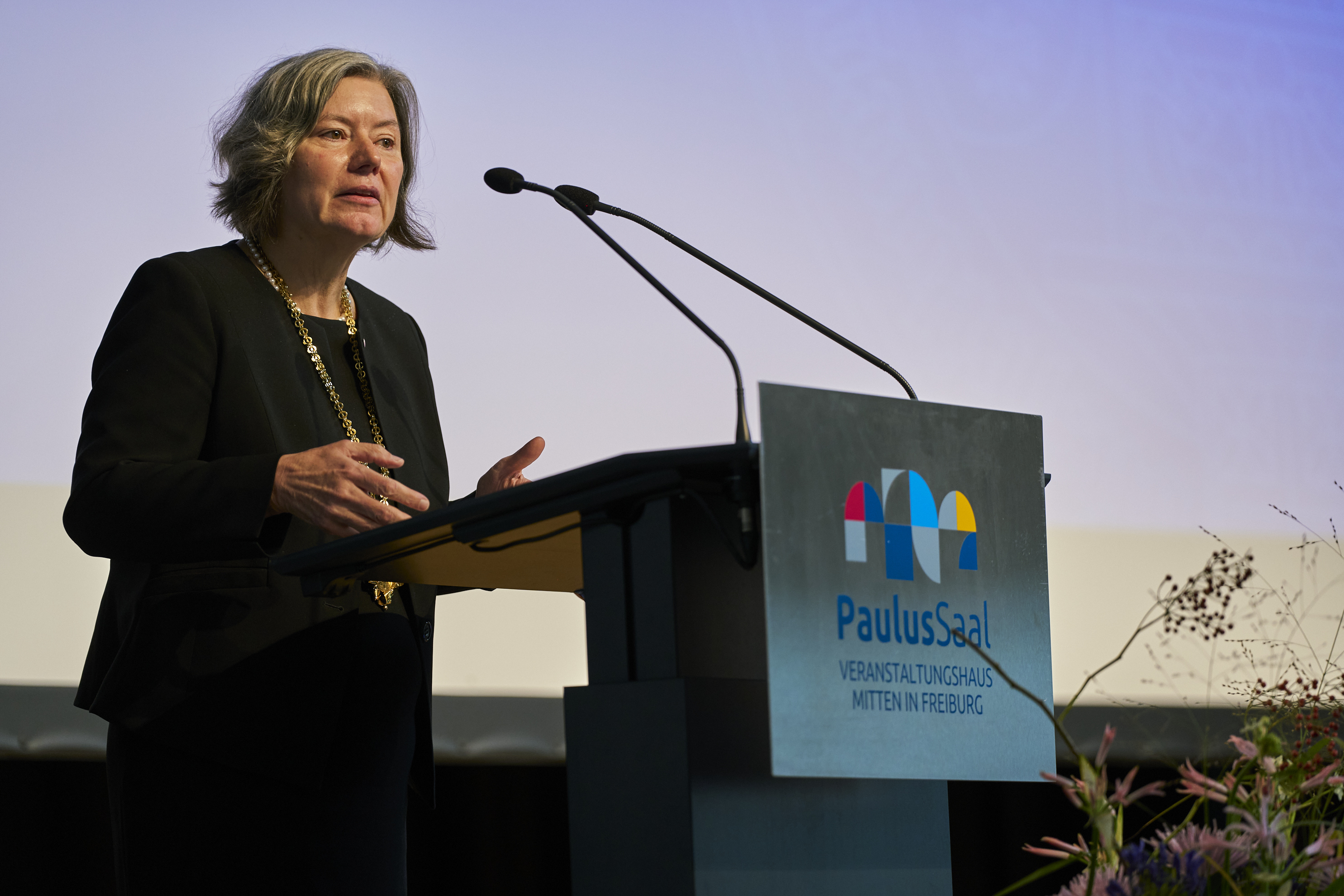 Rector Kerstin Krieglstein, Photo: Markus Schwerer
The question "In what shape should our university be in 2030?" was at the heart of the opening of the 2023/2024 academic year, and it is also guiding the current overall strategy process at the University of Freiburg. The University first developed a vision for the year 2030, explained Rector Kerstin Krieglstein. In 2030, she said, the University of Freiburg should be "one of the most innovative and attractive universities in the centre of Europe" in which "all members enjoy researching, studying, teaching and working." In doing so, the rector emphasised that this vision is not only focussed on the competition of the Excellence Strategy or central third-party funding acquisitions, even though these are important components. "Instead, the University of Freiburg is simultaneously aligning itself with the question of its responsibility for society and the question of togetherness," Krieglstein said.
Krieglstein summed up what the University has already done to achieve this vision. She mentioned the submission of seven draft proposals in the Excellence Strategy competition, the realignment of the research profile with three focal points, the submission of a draft for an Innovation Campus Sustainability in conjunction with the Karlsruhe Institute of Technology and the Medical Center - University of Freiburg as important partners, and the development of a new mission statement, in which all member groups at the University were involved.
Krieglstein also examined current and upcoming tasks. These include, for example, setting up an anti-discrimination office and dealing with abuse of power, strengthening leadership skills, equal opportunities, diversity and expanding career paths. The rector highlighted the review phase of the cluster initiatives. "I am excited not only about the scientific potential of the initiatives, but also about the shared spirit, togetherness and mutual reliability that has developed in these groups of initiatives. In the dress rehearsals and peer reviews, the spirit of our university of the future is palpable, and I would like to see such a spirit in so many other areas of our university and our collaboration in the spirit of constructive community."
The University of Freiburg has awarded prizes for achievements in the areas of research, teaching, doctoral supervision, social involvement and start-up ideas. These include the Young Scientist Award, the Pfiffikus Award, the University Teaching Award, the Special Award for Outstanding Student Involvement and the Bertha Ottenstein Award. Rector Prof. Dr. Kerstin Krieglstein honoured the award winners during the opening ceremony for the academic year.