Science manager and networker
Rector Hans-Jochen Schiewer has been nominated for the title "Higher Education Manager of the Year 2018"
Freiburg, Nov 23, 2018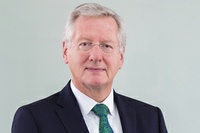 Photo: Silvia Wolf
Prof. Dr. Hans-Jochen Schiewer has been rector for the University of Freiburg since 2008. The CHE Centre for Higher Education and the weekly newspaper DIE ZEIT has honored his leadership achievements with a nomination for "Higher Education Manager of the Year 2018."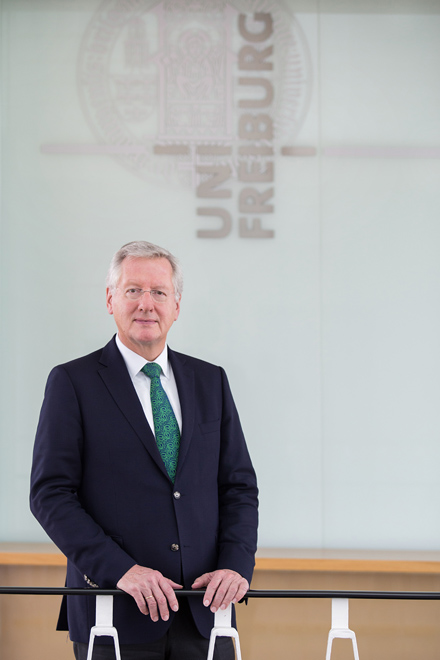 Hans-Jochen Schiewer has been in charge of the University of Freiburg since 2008. Photo: Silvia Wolf
Every year, the Centre for Higher Education and the weekly newspaper DIE ZEIT award the title "Higher Education Manager" to individuals who have shaped the development of their university and initiated innovative change processes with their exceptional leadership performance. The jury has described Hans-Jochen Schiewer as a university visionary who is ahead of his time - this includes in particular his commitment to the founding of a European University with the Eucor - The European Campus, the attractive tenure-track design for academic career paths and the transfer of knowledge and technology to the region through intensive cooperation with research institutes, associations, companies, cultural institutions as well as a pronounced offering for further education.
Connecting Creative Minds
"The University of Freiburg is a university with a long tradition, a strong research base and a broad spectrum of subjects whose faculties have traditionally maintained a strong and self-assured presence. The successful management of such a university would be inconceivable without the involvement of all status groups and public officials in decision-making and strategy processes," says Schiewer, pointing out what helped him to ensure involvement from all sides: transparency, evidence and passion in the matter at hand. Schiewer's cross-border vision for the University of Freiburg is entitled "Connecting Creative Minds – Trinational, European, Global" and describes the future development of the university: The exchange of ideas in regional, European and global networks should be the focus for researchers, administrative staff and students.
Schiewer is one of a total of six finalists in the competition for the title. On December 6, 2018, the Higher Education Manager of the Year 2018 will be honored at the ZEIT conference "University & Education" in Berlin. The jury includes the former Federal Minister for Education and Research, Prof. Dr. Johanna Wanka, and the President of the German Academic Exchange Service, Prof. Dr. Margret Wintermantel.
Press release from the Centre for Higher Education
A short profile of Hans-Jochen Schiewer
Dialogwerkstatt "Connecting Creative Minds"