Rousing emotions, protecting the environment
How "Heritage Interpretation" breathes new life into natural and cultural heritage
Freiburg, Sep 21, 2017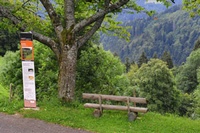 Photo: Thomas Kunz
Heritage Interpretation introduces visitors to sites of natural and cultural heritage. The method was developed in the national parks of the USA – more recently, conservation and tourism associations in Germany have been increasingly interested in it too. On 26 September 2017, the Heritage Interpretation work group together with the Freiburg Academy of Science and Technology (FAST) are hosting a forum for dialog to introduce experts to the approach.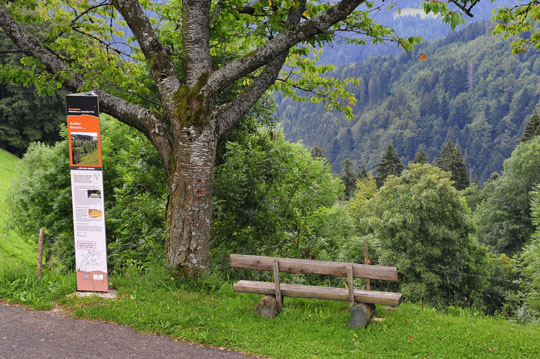 Display boards show visitors to Kandel what can be found on the mountain and in surrounding valleys.
Photo: Thomas Kunz
The theory is that only those who develop an emotional relationship to a place will endeavor to preserve it. This is the idea behind Heritage Interpretation, an outreach method that was developed for the work of park rangers in the national parks of the USA, with the goal of protecting nature. Personal stories can contribute to this relationship, and personal stories are what Kandela, the little witch, tells. She features in the thematic activities on offer, and was developed back in 2006 at Berg Kandel in the Black Forest by Monika Nethe and Dr. Anna Chatel of the Chair of Physical Geography following the principles of the method. In order to raise the profile of Heritage Interpretation in Germany and stimulate discussion, Nethe and her work group are hosting a forum for dialog on 26 September 2017 with the Freiburg Academy of Science and Technology.

Life stories become history

"When people are out and about in their free time they don't want to read dry data," is how Nethe explains the challenge of developing tourist offerings such as nature trails and exhibitions. So Heritage Interpretation attempts to make an emotional connection, "Visitors particularly notice things that surprise, delight or shock them, and this gives them a new means of access to the places." Originally conceived for natural sites, the method was further developed for cultural uses: for instance it can also be used to convey historical information in museums or existing special features of locations.

Nethe collects stories about these locations – from researchers who have studied a region, from members of a local history association or farmers who have special associations with the place. She writes their tales as vividly as possible, with many comparisons and examples to make ideas clear to a heterogeneous public, whatever their prior knowledge. "Making the invisible visible," is how Nethe describes the process by which she illustrates the landscapes and relics for visitors. The collected stories are edited by the work group: in the Kandel project, for instance, she installed display boards with text, photographs and illustrations of the witch Kandela. The researchers designed the character to interest children in particular. "Kandela was especially well received by the parents too though, with her funny anecdotes and tales," Nethe reports.
The little witch Kandela. Photo: Thomas Kunz

A forum that responds to demands

Working with students on another project, Nethe and her colleague Dr. Anna Chatel developed the Freiblick smartphone app, which offers a guide to unusual locations in Freiburg – such as a foodsharing location or a radio broadcaster that arose from the anti-nuclear movement. In the end, the target group decides which media the researchers select. "I wouldn't attract teenagers with a display board. For them we try to develop role playing with historic personalities, for example, or a digital package."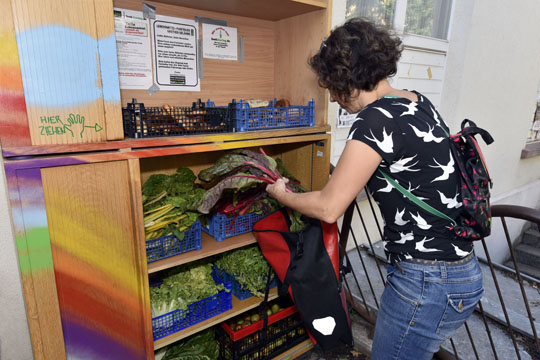 Monika Nethe and her colleague Dr. Anna Chatel developed the Freiblick smartphone app, which offers a guide to unusual locations in Freiburg such as a foodsharing location.
Photo: Thomas Kunz

The work group and FAST's forum for dialog will also be concerned with the right forms of outreach. "We want the forum to look at what the actual needs are of those who will use the method in the future," says Jochen Ehrenreich, who has organized the events at FAST. "Ideally the forum on Heritage Interpretation will stimulate research and at the same time launch other projects – we've already had more than 50 participants register for the event."

FAST was established at the University of Freiburg in 2012 as a point of contact for inquiries and incentives from business, institutions and associations, and has experimented with new means of cooperation. It has contributed to opening up the university to regional business and civil society – so far almost 50 cooperations and projects have been initiated and supported. FAST's role as a point of contact and outreach, as well as its dialogue format, will in future be coordinated by Dr. Heinrich Stülpnagel from Freiburg Research Services and Dr. Thomas Maier from the Founders' Office of the University of Freiburg.

The Heritage Interpretation forum for dialog takes place on 26 September 2017 from 1 p.m. to 5.30 p.m. in the Events room of the University Library Freiburg, Platz der Universität 2, 79098 Freiburg. Please register to attend under http://www.fast.uni-freiburg.de/aktuelles/dialogforum-heritage/.

Sonja Seidel
Article about Freiblick app in uni'leben (2016)
Article about the Kandel nature trail in uni'leben (2011)