May the testing begin
Two new testing centers provide staff and students the opportunity to get tested for the coronavirus
Freiburg, Apr 09, 2021
It only takes about 15 minutes to take a professionally administered rapid antigen test for the coronavirus at the two new University of Freiburg testing centers. All asymptomatic staff and students are now eligible for an appointment at the centers whose work begins on April 12, 2021. The free testing is voluntary.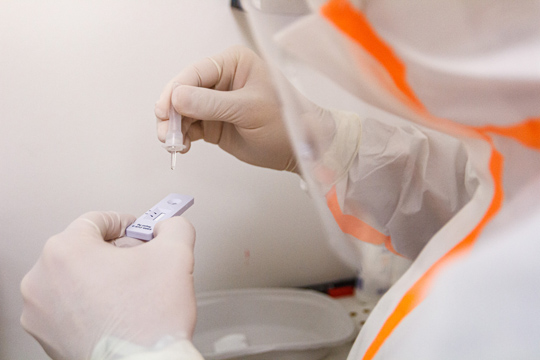 Rapid antigen tests are an important tool in the fight against the corona pandemic. Photo: David Lohmueller
Rapid antigen tests are an important tool in the fight against the corona pandemic. They can help to detect current infections even without any symptoms of the illness, thereby avoiding possible chains of infection and containing the incidence of infection. Starting April 12, University of Freiburg staff and students can get tested on campus. The testing centers are located in the Mensa on the Natural Sciences Campus as well as in Collegiate Building I where University members can receive a rapid antigen test. Another center has been set up by the University of Education, which will also open its doors on April 12. This facility is also available to University staff and students.
If you are on campus, you should get tested
University members can be tested at least once a week, but more often if needed. The tests are free, voluntary, and the result is not reported to the University. Anyone interested can book an appointment in advance at the testing center. "We recommend that all staff and students who are on campus at the University take advantage of this offer," says Dr. Petra Markmeyer-Pieles, head of the Office of Safety and a member of the University's "Corona Coordination Center." Strictly people who are not currently showing any typical symptoms are admitted. Anyone who already has a fever, cold symptoms or an impaired sense of smell or taste must directly visit a doctor's office.
The procedure is simple. Immediately after check-in, medically trained staff will take a swab in test cabins. After about 15 minutes, the person tested is notified by e-mail that the result is available, which can be accessed online via a link. "If the test is positive, we ask that you isolate yourself immediately and notify your family doctor or, alternatively, call the central telephone number 116-117 to arrange an appointment for a PCR test," emphasizes Markmeyer-Pieles. It is also helpful to inform your private and professional contacts as soon as possible so as not to lose valuable time, she adds. The test center is obliged to report positive rapid antigen tests to the public health department.
Utmost caution is still advised
Do the rapid antigen tests mean a free pass for meetings? "No, even with testing, unfortunately, we cannot relax the regulations," Markmeyer-Pieles makes clear. Even when performed carefully and expertly, a rapid antigen test can lead to an incorrect result - both false-positive and false-negative - and a "false sense of security." "In addition, a negative rapid test is always just a snapshot. The significance of the rapid test drops significantly after a few hours." Contact restrictions, distance and hygiene rules as well as all other applicable regulations must therefore continue to be consistently observed. More information on this can be found in the University of Freiburg hygiene regulations.
Rimma Gerenstein