Lifting the Lockdown on Books
The University Library is one of the most visited buildings in Freiburg – and since mid-April 2020 it's been open again offering a skeleton service
Freiburg, May 07, 2020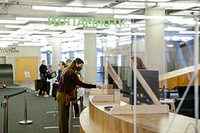 Photo: Marie Hopermann
Suddenly the heart of Freiburg academic life fell silent: on 13 March 2020 the University Library had to shut because of a case of Covid-19. Almost 10,000 people use the University Library every day, then all at once it was no longer certain when they could have access to the books, journals and databases they need again – or even enter the building. It's taken almost five weeks. In mid-April the University Library reopened its doors, but "we're still a long way from a normal user service" stresses Dr. Antje Kellersohn. In conversation with Rimma Gerenstein the University Library director reports on her experience of the closure, how the skeleton service is working and why the corona crisis highlights the great importance of libraries.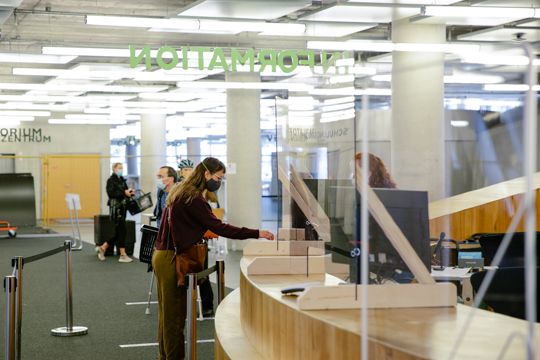 Since mid-April students and staff of the University of Freiburg have been allowed to use the University Library again – subject to the conditions imposed by the Federal State of Baden-Württemberg. Photo: Marie Hopermann
Ms Kellersohn, the University Library was the first university institution that had to close because of a case of Covid-19. Was it a surprise?
Antje Kellersohn: We'd already been working on various scenarios for limited operation just a few days before closure of the University Library on 13 March, after all, the situation was getting worse day after day. But then things changed far faster than expected: late in the evening of 12 March we heard that a colleague was ill with Covid-19. So that night we had to consult closely with the university management and the security department on arranging immediate closure, both for the users and for our own staff. It soon became clear that it wouldn't just be for a few days.
Not a nice prospect.
Absolutely not, because the University Library is normally at especially high capacity at this time of year, with many students studying for examinations or writing papers. I should say that in more than 25 years in this profession I've experienced a few crises: fires, storm and water damage, burglaries and the discovery of asbestos. So we had emergency plans ready for many scenarios, but this situation was completely new, because it was a strict shutdown without any transitional period – unlike many other libraries in Germany.
What was it like just after close-down?
In the first few days it was all about making sure our users had access to their things in the lockers. In parallel with this we had to work out the conditions for our staff to be able to work in the University Library building and in the campus libraries at all. We had to organize ourselves into home offices in just a few days. Much to my delight, our team has risen to this challenge and is now stronger together than ever. We discuss things daily by telephone and video conferences and have established new forms of working together which we hope will continue to support our work even after corona. But we all miss the personal contact and conversation.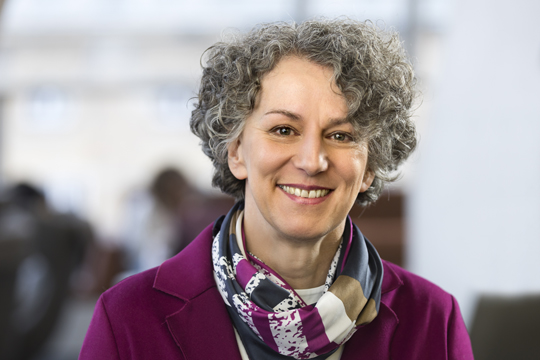 The time when the University Library was closed was an "eerie experience", says Antje Kellersohn – now the director is delighted that life is gradually returning to the building. Photo: Jürgen Gocke
… even the chaos of one of the most visited buildings in Freiburg?
It was a remarkable, almost eerie experience for me: of course in normal circumstances our building is permanently full of people day after day and therefore also full of life. And suddenly everything was quiet and empty. You could really hear that the heart of the university had stopped beating.
All the same, work continued for the University Library staff, because people do have to be able to access the required literature.
Yes, that was the priority. We quickly expanded the range of e-books, electronic journals and other databases on offer. And various publishers and other providers have made their digital services temporarily available for free because of the corona crisis. We're hugely thankful for that. In addition we've launched a scanning service for essays from journals and compilations and a postal service for books. We've received very positive feedback for these services.
In mid-April the state of Baden-Württemberg issued a decree announcing that libraries here could reopen under strict conditions. How did you prepare the University Library for this?
Since the first day we closed we've been working on a plan for a gradual reopening. When the official requirements became clear we adapted the operation to the hygiene requirements and distancing rules. These include for example that only a limited number of people can be in the building and that everyone has to wear a face mask covering their mouth and nose.
What are the challenges in implementing the official instructions?
Firstly that the distancing rules are observed: at the entrance, by the lending and return points we were able to signpost this clearly with suitable markings. Around the counter workstations on the ground floor we've installed plexiglass panels. But it was more difficult to arrange how people get around: the way through to the counter and the stairway in the open-access area are really narrow, and the shelves are close together too. Another challenge was to work out in advance how great the pressure would be. Our worst case scenario would have been to have a massive cluster of people by the revolving door – like there was when the renovated University Library was opened in July 2015.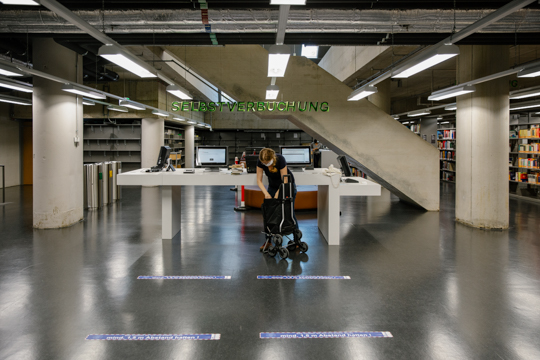 Getting a grip in the open-access area: a student packs up books on loan.
Photo: Marie Hopermann
What do you think about how things are working now?
Every day about 300 visitors come to our building, and our University Library baskets have proven a useful "entry ticket". So far we've been able to cope with the demand and are very grateful to our users for observing the rules and responding with understanding. Naturally we still have to improve things here or there, but on the whole it's going well. But I still have to emphasize that this is a skeleton service. We're still a long way from a normal user service. And so we can't handle any special requests at the moment – at least not immediately.
For a long time modern libraries have seen themselves not just as a lending service but also as a central point for the exchange of knowledge. Does the current situation alter the value of libraries?
In recent years we've repeatedly heard the question whether libraries are still necessary at all in view of the digital revolution. But then came the lockdown, all cultural and information institutions were closed, and the service that we had lost from one day to the next became clear to us. This is why major newspapers are among the many demanding the reopening of libraries as soon as possible; politicians responded quickly too. What the long-term effects of all this will be remains to be seen. But I'm optimistic about the Freiburg University Library. We will continue to fulfill important tasks for the university in future and won't have to worry about a lively intake at our University Library – provided the official instructions in relation to corona allow.
So what happens next? For instance, when can users return to the reading rooms or the Parlatorium, and when will the campus libraries be reopened?
Having been able to provide limited access to our lending stocks in the first step, we're now preparing for a very reduced reading room use. We're hoping to start it from mid-May and gradually expand. In parallel we're also preparing for a staged opening of the specialist libraries. Similar conditions will apply there as in the University Library, however we will have to take the space available in each case into account. The Parlatorium in the University Library will definitely have to stay shut for a long time though. The media center will start operating with equipment lending via the central counter on the ground floor. Colleagues in the media center have been supporting teaching staff to prepare digital material for several weeks now. And the student uniCROSS editorial team has been working uninterruptedly.
But we still need to be patient for a while?
Yes, and that may be difficult for some – me too sometimes, but I can see that we are making good progress, and that gives me strength. The heart is beating again, although a bit more softly. Naturally our goal is to reopen the University Library and campus libraries as soon as possible and offer our full range of services – but the same official instructions apply to the University Library as to the entire university. I recommend that our users check out our website regularly. You can find information about the latest developments there.