Keep Calm and Study On
How the interminable Brexit debate is affecting the University of Freiburg community
Freiburg, Apr 26, 2019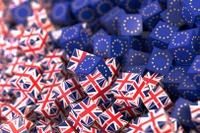 Christian Jäger's work takes him close to the Brexit debate. He is the head of the "EU-Büro der Universität Freiburg" – the university's office for handling EU affairs. Dr. Jäger is the person to speak to about basic questions, applications, and contracts. Mathias Heybrock asked him what students and researchers can expect if the United Kingdom (UK) leaves the European Union.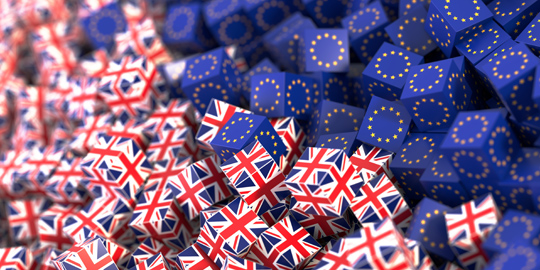 The reports are opaque and chaotic – for further cooperation in research and teaching, the University of Freiburg is working out a range of options for different scenarios. Foto: tostphoto/stock.adobe.com
Mr. Jäger, what impact will Brexit have on the University of Freiburg?
Christian Jäger: Let's start on the level of the Erasmus Program. If the UK leaves the EU, the country will no longer be included in Erasmus. It will then have the opportunity, for example, to become an associate member something like Turkey or Norway. Or it would work they way it currently does in exchange with Switzerland. In this case, London would continue to pay the funds that now go to Brussels, but they would be paid directly to the students – our students from Freiburg who go to the UK as well.
It sounds relatively simple. What's the sticking point?
Unfortunately, it takes at least two years until an association agreement is done and dusted. And we don't really know if that's what London wants. We don't even know if the old structures will actually be terminated and what could replace them. Everything is still really in a state of flux right now.
What does that mean for Erasmus candidates from the University of Freiburg?
No matter what happens, nothing will change for them in the summer semester of 2019. Then we'll have to see how things look in the winter semester of 2019/2020. At the moment, we're recommending people not to get their hearts set on Britain and telling them to look for alternatives. Those who are studying English Language and Literature, for example, could also be well-placed at Scandinavian universities or in Ireland.
What's the situation for research projects in the European group?
What applies to them is that at least three partners from the EU or associated countries have to be involved in order to get financial support. Most of the time, however, more than three European universities are taking part. If the British partners in those projects were no longer in the EU, then the requirements for support would not be affected. Furthermore, the British government has guaranteed British partners in EU projects that begin or have been approved before the date of Brexit will receive their funding directly from London rather than from Brussels.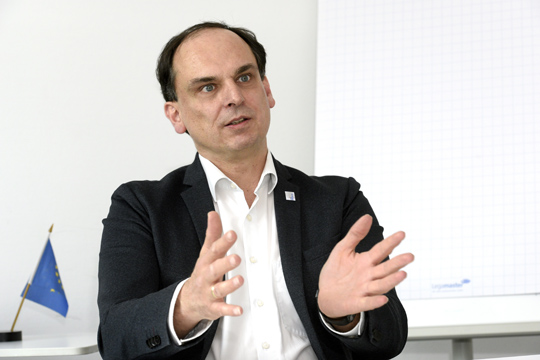 Christian Jäger is the head of the EU Office. He fields questions about Brexit and the impact it will have on the university almost daily. Photo: Thomas Kunz
So everything will be just fine?
With one small exception. We are taking part in a very interesting project that just meets the minimum requirement. We're cooperating with Fribourg in Switzerland and Cambridge in England. In the case of a Brexit, this project would not be terminated immediately. It continues until September 2020. And who can say now if Britain might still be in the EU even then?

Are projects planned in the midterm being moved along more quickly so that they can be submitted, approved, and secure funding before whatever day Brexit may happen?
No. Every research project that has been announced has a fixed date on which the application must filed. That can't be influenced. Either it's before day x or not, whatever the case may be. So there's no rush, and certainly no panic. We're definitely receiving more inquiries from members of the university community who are affected by the current situation and who want to get information. But they're all pleasantly relaxed.
What would be the worst thing that could happen?
If no association agreement is concluded, then cooperation would have to be on a bilateral level. In research, then it would depend on funding organizations in Germany and Britain setting up joint formats, because cooperation is important for both sides. So in terms of exchange, we would likely be back in the 1970s. Back then exchange programs were negotiated between the two universities' executive administrators.
How often do you listen to the news in the morning and think, "Thanks, I wasted a day of work yesterday?
It's not quite that bad. We're developing different options for different scenarios. Especially with respect to British students who are coming to us this summer semester, we've some extra administrative work to do. But we like doing it.
Why?
Because we're looking forward to seeing the British students. We want international exchange in education and research. It's indespensible.