FRESCO Brings Researchers Together
The Freiburg Institute for Advanced Studies is offering seven fellowships in profile and emerging university research fields
Freiburg, Mar 27, 2020
The University of Freiburg has developed a new funding format at the Freiburg Institute for Advanced Studies (FRIAS). During the coming five years, the "Freiburg Research Collaboration Program" (FRESCO) will enable researchers in Freiburg to work more closely with leading scientists and scholars from Germany and around the globe.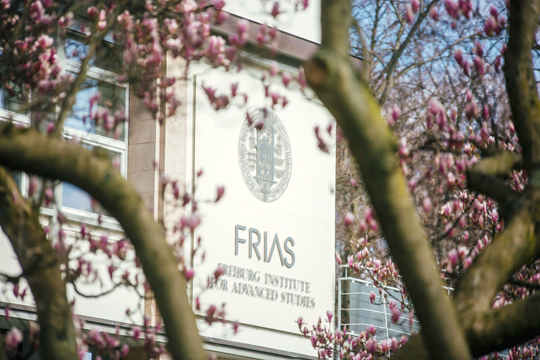 The Freiburg Institute for Advanced Studies has always been a place that promotes interdisciplinary and international exchanges. Photo: Sandra Meyndt
Diversity is a hallmark of research in Freiburg. The University of Freiburg has identified a total of eleven research fields that benefit particularly from interdisciplinary cooperation. In addition to "biological signalling research," which is currently represented by two clusters of excellence, the others include topics that are highly relevant to society, including "artificial intelligence" (AI), "environment and sustainability," and "cultures of the present and past." More than interdisciplinary exchange within the university is significant for these eight profile and three emerging fields. Their integration in the regional, national, and international research landscape is vital as well. The new FRESCO program aims to promote this. The executive director of FRAIS, Prof. Dr. Bernd Kortmann, spoke to Verena Spohn about – among other things – the program's emphases, the application process, and long-term plans.
Mr. Kortmann, what are FRESCO's goals and why is the program based at FRIAS?
Bernd Kortmann: With FRESCO, we want to support Freiburg researchers as they build sustainable research networks. The program aims to allow researchers from Germany and abroad repeated short-term stays that ideally will create lasting long-term links to the University of Freiburg. They are to work in cooperation with their hosts in their laboratories, working groups, or research teams and – vice-versa – open up their own labs and teams for Freiburg scientists and scholars from Freiburg, particularly junior researchers.  Additionally, the program should also contribute to furthering the research reputation of our university at the highest level, especially in profile and emerging fields.  FRIAS has always been a place that promotes interdisciplinary and international exchanges. A few of our emphases at FRIAS overlap with the foci of profile and emerging fields. For example, our current research focus "Environmental Forecasting," and the one for the coming academic year, "Environmental Humanities," are both dedicated to environmental and sustainability issues. AI is a topic that is also represented at FRIAS, as is security research. In that respect, FRIAS is the ideal hub for the FRESCO program.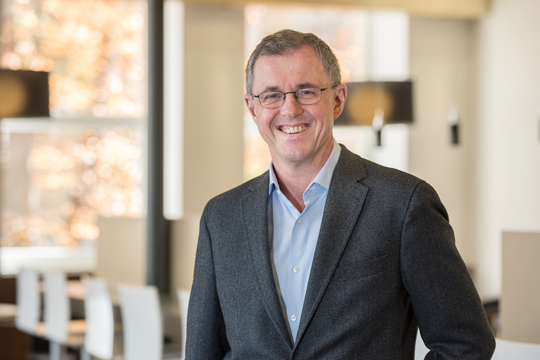 Bernd Kortmann is executive director of the FRIAS and has helped to develop the FRESCO program. Photo: Roger Koeppe
Yet researchers aren't able to apply themselves. Instead, they have to be nominated by their counterparts at Freiburg. What is the thought behind that?
As the name of the program says, it's about research cooperation with scientists and scholars at Freiburg. Its aim is to establish mid- and long-term connections between researchers, particularly in promising profile and emerging fields. That's why we reversed the application process which has been usual at FRIAS up to now. The intensity of the planned cooperation should be augmented by a correspondingly high commitment on the part of the researcher making the nomination. In a first feedback round, teams of representatives from the profile and emerging fields are being called upon to make statements about the nominees in their respective areas. This is to guarantee that the person who's been nominated for the grant will produce added value for the entire profile or emerging field. Unlike current FRIAS fellows, researchers being supported by FRESCO can also come from universities and research institutes in Germany as well as abroad.
The current FRESCO round covers a period until 2025. How will the program continue in the long run?
Announcing a grant program for a period of five years is already something unusual. The FRESCO round that has just been announced will be financed from the university allowance from the latest excellence competition, so a planning horizon to 2025 is relatively obvious. Then at the latest, but perhaps one or two years earlier, we will evaluate FRESCO in order to assess if the program is meeting expectations. Then we will decide whether and in which form we will continue to support this approach to promoting excellence. There are always certain setscrews that need to be adjusted later on. FRESCO having a long-term future will depend on the quality of the nominations and the selection processes for the currently open invitation to apply.


As many as seven FRESCO fellowships will be granted to individual researchers under the auspices of the program. These nominees should be pursuing particularly innovative and promising research projects, especially in cooperation with members of the university's current profile and emerging research fields. The fellowship will be for a period from July 2020 to December 2025 and may be distributed across several stays, the maximum total duration of which is ten months.

Nominations for the FRESCO program are open until 30 April 2020. University of Freiburg researchers from the profile and emerging fields are eligible to make nominations, and will function as hosts for the duration of the fellowship. In addition to excellence in research, as key selection criteria for the candidate will be how well they fit within the profile and emergent fields.

Further information on the program and the nomination process can be found on the  FRIAS homepage at: https://www.frias.uni-freiburg.de/en/funding-programmes/freiburg-research-collaboration-programme