European Label
Special status for research and teaching projects within the European Campus
Freiburg, Apr 05, 2017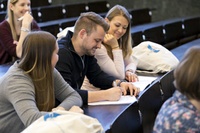 Photo: Jürgen Gocke
Whether it's a joint seminar with the University of Basel, a research project with colleagues from the Université de Strasbourg or a colloquium for doctoral researchers from the Universities of Freiburg and Haute-Alsace. Eucor – The European Campus puts a common label on cross-border projects. The European Campus announces which project has received the label on its website or in its monthly newsletter. It also makes it easier to apply for subsidies toward travel expenses which arise when groups work collaborate across the borders.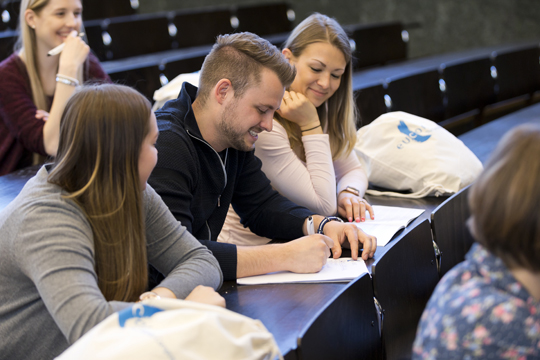 Collaborating across the borders: the label makes it easier to apply for subsidies toward travel expenses.
Photo: Jürgen Gocke
Bi- and trinational cooperation on the Upper Rhine didn't just start a few months ago, neither in teaching nor in research. "The European Campus did not come from nowhere. The many different forms of collaboration between our universities has existed for several decades," says Florence Dancoisne, coordinator of Eucor – The European Campus at the University of Freiburg. "But with our label, we aim to make visible the fact that various projects belong to the European Campus." It's hoped that this will help create an awareness at the universities that the European Campus is an active reality and not just an abstract idea.

Who gets a label?

The label may be given to educational and academic projects as well as for cultural and sporting ones. The chief requirement is that the project takes place at one of the universities in Eucor – The European Campus. On the German side, those institutions are the University of Freiburg and the Karlsruhe Institute of Technology; in France they are the universities of Haute-Alsace and Strasbourg, and the University of Basel in Switzerland. Depending on the type of project and depending on whether ECTS credits are given for it, at least two or three member institutions from two countries must be taking part. Other national or international partner institutions may also be involved.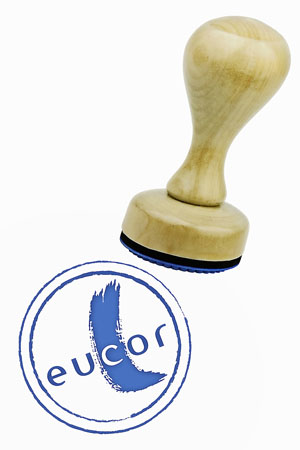 Photo: Pixelot/Fotalia
How to apply

If you think your project qualifies for a label, send an application to the coordination office at the Université de Strasbourg. Include a description of the project, details of the people responsible at the Eucor member universities, and a budget outline.

What must project organizers do?

If your project receives the label, you are obliged to use the logo for that project. In addition the coordination office and the European Campus contact person at your location – in Freiburg it is Florence Dancoisne – should be informed about events and any changes to the project so that, for instance, university newspapers can report on them.
Sarah Nieber


Applying for the label
Eucor – The European Campus coordination office
Université de Strasbourg
Maison Universitaire Internationale
11 presqu'île André Malraux
67100 Strasbourg
France
Phone: +33 (0)3 68 85 82 95
E-Mail: info@eucor-uni.org

www.eucor-uni.org