Asking about age!
Intergenerational sharing is the aim on Diversity Day 2017
Freiburg, Nov 17, 2017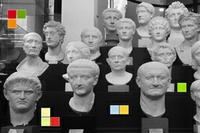 Age is in the spotlight on this year's "Diversity Day" at the University of Freiburg. The question, "How old are you?" is almost taboo. Yet aging is an issue that affects everyone, whether they are 19, 25, 46, or 63 years old. Jannis Behnke has asked around on campus and spoken to a student, a professor, a trainee, and an auditor, as well as a member of the administration, about the role that age plays in their daily life. Behnke also wants to know which part of their lives these people enjoyed most and starting at what age – if at all – can someone be described as "old."
56bc2fb44f7bc619f4100cc88e013c54
The slogan of this year's Diversity Day is "Next time we meet, another year will have gone by!" The event will take place on 23 November 2017 from 4 p.m. to 7 p.m. in the Archaeological Collection in the Herderbau. All members of the university are welcome to attend.