Understanding signaling pathways, fighting the spread of cancer
Collaborative Research Center at the University of Freiburg enters its third and final funding period
Freiburg, Nov 28, 2017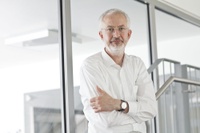 Christoph Peters is the spokesperson for the special research area "Control of Cell Mobility in Morphogenesis, Cancer Invasion and Metastasis." Photo: Britt Schilling/University Medical Center Freiburg
The German Research Foundation (Deutsche Forschungsgemeinschaft, DFG) has approved the renewal application for the Collaborative Research Center (CRC, Sonderforschungsbereich, SFB) 850 "Control of Cell Motility in Morphogenesis, Cancer Invasion and Metastasis". The CRC 850 has been running since January 1, 2010 and will enter its third and final funding period starting at the beginning of 2018. The DFG has assured a total of 12.7 million euros for the coming four years. Researchers from the Faculties of Biology and Medicine at the University of Freiburg along with the German Cancer Consortium, partner site Freiburg and the Max Planck Institute of Immunobiology and Epigenetics are collaborating in this CRC, which hitherto has brought forth more than 180 scientific publications. Prof. Dr. Christoph Peters, Director of the Institute of Molecular Medicine and Cell Research and Scientific Director of Comprehensive Cancer Center Freiburg (CCCF) is the spokesperson.
Cell motility describes the cells' ability to move actively. Uncontrolled cell motility is one of the key characteristics of malignant tumors. It allows the tumor cells to invade neighboring tissue, spread through the body and form  colonies or so-called metastases in foreign organs. These metastases pose a huge problem in cancer medicine and are responsible for the majority of cancer related deaths. Cell motility is controlled by central signaling pathways that are active during embryonic development and may be reactivated in malignant cancer cells. They play an essential role in the formation and spread of tumors. The aim of the SFB 850 is to better understand the molecular mechanisms of these signaling pathways and to apply this knowledge to control the motility of cells, for example, through already existing drugs. These insights may also serve as basis for the development of new therapeutic strategies for inhibiting the invasion of cancer cells into healthy tissue and thereby to prevent the formation and growth of metastases.
The scientific background of the participating groups is wide ranging - from basic research in developmental biology to clinical cancer research in the CCCF, enabling a direct review of the clinical relevance of the obtained findings.