Study Health Promotion while working
New modular Master's program at the University of Freiburg and Furtwangen University
Freiburg, Jun 23, 2017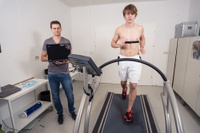 Training diagnostics in the laboratory Photo: Alex Koch
For all those who have a Bachelor's degree or professional training in the field of health promotion, preventive medicine, or rehabilitation, and would like to obtain a further qualification in the field, there is a new course on offer. Starting winter semester 2017-18 Furtwangen University and the University of Freiburg will teach Interdisciplinary Health Promotion in a joint program. It culminates in a Master of Science degree. Its special feature is that participants can take the full Master's program - or individual modules from it. They can choose the speed and intensity of studies which suits them.

What is the program about? Movement-based educational and treatment professions, as in health and nursing, often lack proximity to research and knowledge transfer. This is where the new program comes in with further training at the academic level which is highly relevant to practical application. The modules on nutrition, movement, diagnostics, health promotion, management, health psychology, and workplace health management create interdisciplinary, scientifically-based skills. For everyone who works in physiotherapy, the are modules on Orthopedic Manual Therapy (OMT) are particularly interesting. They provide an opportunity to take the OMT exam while getting academic training.

So that working professionals can complete the course, classes are on the weekend - usually in Freiburg, and sometimes in Furtwangen. Emphasis is placed on supported online-study-phases, which can be completed anywhere.

"A scientifically-based further training concept," says Marco Maier , a physiotherapist and sports graduate, who is planning to make use of the new Master's program.
Application deadline: 15 August
Contact: Katharina Poggel, phone: 0761 203-67459, and Karen Markowski, phone: 07723 920-2676
info@igf-studium.de,  www.igf-studium.de