Russian Culture Days 2017 - A unique program of events
Theater, music, films, exhibitions, lectures, and an academic conference on the 100th anniversary of the Russian Revolution
Freiburg, Oct 05, 2017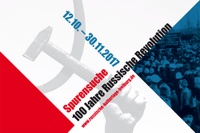 2017 marks one hundred years since the Russian Revolution - an event which has had long-lasting political, socio-economic, and cultural ramifications far beyond Russia itself, and which helped to shape the 20th century.
The Russian Culture Days 2017 in Freiburg are dedicated to these epoch-making events. During October and November the Zwetajewa Center for Russian Culture, which was jointly founded in May 2017 by the University of Freiburg and the City of Freiburg, is presenting a seven-week program of events from the worlds of academia, music, art, film, literature, and theater.
"Together with the people of Freiburg and with our international guests, we want to reflect on the historical and also the current relations between Germany and Russia," says Professor Elisabeth Cheauré, head of the Zwetajewa Center and professor of Slavic Philology and Gender Studies at the University of Freiburg. "It is at times of political tension that an appreciation of the ties of culture can help maintain them and build new bridges."
Freiburg mayor Dr. Dieter Salomon stresses the supraregional significance of the Russian Culture Days: "In May we came together to celebrate the opening of the Zwetajewa Center in the Historisches Kaufhaus, and now we are seeing an impressive major program for the general public. The Russian Culture Days 2017 offer culture and art, findings from research, historical puzzles, and discussion about contemporary Russia. Exchange between Germany and Russia is especially important in politically difficult times - and this ambitious program plays an important role in that," he says.
Highlights of the program include the exhibition "Last messages from the gulag" at the University Library, a street art project by the Russian artist Igor Ponosov, guest performances by the theater company Baltic House St. Petersberg of "Stalin. Nacht"; and a new interpretation of Anton Chekhov's "The Cherry Orchard" by Iranian director Amir Reza Koohestani at the Stadttheater Freiburg.
More than 20 academic and artistic institutions in Freiburg are involved in the Culture Days. They are joined by international partners such as the State GULAG Museum Moscow, the human rights organization Memorial, and the State Russian Library Rudomino. The institutions explore the artistic power of the Russian Revolution and its influence on western European cultures and societies to the present day – with premieres of plays and music, news exhibitions, film series, research projects, a series of lectures, and an academic conference. The German government's Kulturstiftung is sponsoring the project with more than 200,000 euros in funding.
"The 100th anniversary of the Russian Revolution is an opportunity which demands that we review and place in context this historical event," says Professor Juliane Besters-Dilger, Vice-President for Academic Affairs at the University of Freiburg. "Naturally universities come into this - particularly the humanities, social sciences, and cultural studies which are highly valued in this country. By publicly communicating their findings gained via scientific methods, they enable people to critically interpret the world and the changes in it, and to position themselves in it. I am therefore delighted with the tremendous involvement of my colleagues which makes our contribution to the Russia Culture Days 2017 possible."
Further information and program
www.zwetajewa-zentrum.de/russische-kulturtage-2017