Producing electricity during flight
Sayonara windmills? Researchers show current developments in energy production through airborne wind turbines
Freiburg, Sep 20, 2017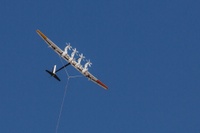 Source: Makani / X
Dear Ladies and Gentlemen,
Dear Colleagues,
Anyone who has ever flown a kite during a strong windstorm is familiar with the kind of power tugging at the kite's line. Stunt kites and drones can utilize the strength of high altitude wind that continuously blows at a height between 200 and 1,000 meters to produce energy. Researchers and start-ups will introduce prototypes and current developments in airborne wind energy during a




Press talk on Wednesday, October 4, 2017 from 1pm to 2pm at the
Platz der Alten Synagoge, 79098 Freiburg.
Between the hours of 2pm and 4 pm the prototypes will be on display for the public to see. The press talk is a part of the 7th international Airborne Wind Energy Conference AWEC 2017 taking place on October 5-6, 2017 at the University of Freiburg with more than 170 researchers from around the world.
"With kites or drones on a rope that scoop up the wind energy high up in the air, we reduce a windmill to a single wingtip," explains Prof. Dr. Moritz Diehl, conference organizer and professor for systems control and optimization laboratory at the Department of Microsystems Engineering, Faculty of Engineering at the University of Freiburg. Concrete towers and rotor blades are obsolete. Even when it's suddenly still on the ground and the windmills are standing still, the wind is almost always blowing at higher altitudes. In American and Dutch projects energy-harvesting airplanes with a breadth between 10 and 25 meters are currently being tested. "The progress made over the past few years is astounding," says Diehl. "I am convinced of this technology's enormous potential. We assume our first products with more than 600 kilowatts will be ready for market in the next three to seven years. That is the equivalent of a mid-sized windmill that can cover the energy needs of 1,500 households."
For further information about the conference
Kind and collegial regards,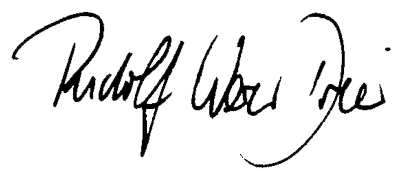 Rudolf-Werner Dreier
Office of Public Affairs
Contact:
Prof. Dr. Moritz Diehl
Chair for Systems Control and Optimization Laboratory
Department of Microsystems Engineering – IMTEK
University of Freiburg
Tel.: 0761/203-67852
Mobil: 0152/22928584
E-Mail: moritz.diehl@imtek.uni-freiburg.de
Natascha Thoma-Widmann
PR/Marketing Advisor
Faculty of Engineering
University of Freiburg
Tel.: 0761/203-8056
Mobile: 01522/2928606
E-mail: thoma-widmann@tf.uni-freiburg.de