Heroes must die
A lecture series starting on 08.11.2017 illuminates the purpose and doubtful nature of heroic death
Freiburg, Nov 08, 2017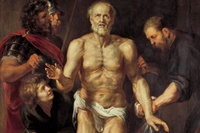 Peter Paul Rubens, "Der sterbende Seneca". Source: Wikimedia Commons
Heroes must die, because they are human. However death can be loaded with different meanings or significant in different ways to their status as a heroic figure. The "Heroes – Heroizations – Heroisms" special research area of the University of Freiburg is organizing a lecture series in which the speakers will present examples: from the death of the philosopher Socrates in ancient Greece through the death of the knight in the High Medieval period, the soldier's death in the First World War and the death of the rock musician Kurt Cobain, to the victims of the murderous attack in Utøya, Norway in 2011.
Each of the talks in the lecture series goes into the question of how dying, death and heroic deeds are placed in relation to one another and what relationship the representations of heroic deaths create between heroes and their respective audiences. In early Greek antiquity, for instance, death was a requirement for heroization. Martyrs sacrificed their lives to often extreme forms of killing, doing so in the expectation of a continued existence in the hereafter, or for a glorious memory in posterity. War heroes responded to the call to give up their lives for a great cause, and invoke subsequent generations to do likewise – without death having to be the goal of the deed. Heroes who die young are presented as ideal of "eternal youth".
The series opens with Prof. Dr. Peter Eich, Ancient History, and Prof. Dr. Anna Schreurs-Morét, Art History, who on Wednesday 8 November 2017 will look at the death of the philosopher Seneca in ancient Roman history. All lectures will take place on Wednesdays from 8.15 p.m. in the Collegiate Building I, Lecture Theater 1199, Platz der Universität 3. Anyone who is interested is welcome. Lectures will be given in German. Admission is free. No need to register.