Getting to know fairytales and popular stories
A lecture series starting May 2, 2017 in the Institute for Cultural Anthropology and European Ethnology
Freiburg, Apr 20, 2017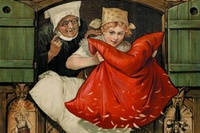 Picture: Reckahner-Museums
The lecture series "Fairytales" at the University of Freiburg turns to the question of how fairytale-like stories continuously adapt to current needs and are thereby retold in a new way. Experts from the US and Europe will report on popular stories and their constant adaptation to the times. After all, fairytales, modern sayings or even rumors say a lot about current problems, issues and social and cultural contexts, but also a lot about contemporary society and culture. The audience will learn more about the instrumentalization, collection and manipulation of this type of narrative in, for instance, advertising, comics or proverbs.
The series begins with a presentation by Prof. Dr. Holger Rudloff entitled "Fairytales in school during the Nazi regime" on Tuesday, May 2, 2017 from 6:15pm to 7:45pm in the Institute for Cultural Anthroplogy and European Ethnology, in the ground floor seminar room, Maximilianstraße 15, 79100 Freiburg. Further dates include May 16, June 13, June 27, July 7, July 18 and July 25. All lectures will take place in the same room at the same time. The event is open to the general public. The presentation will be held in German. There is no entrance fee and no registration is required.
The Freiburg lecture series is a part of the 50th anniversary of the Institute for Ethnology, which was renamed the Institute for Cultural Anthropology and European Ethnology in 2016, during the winter semester.
Further information
Program on the website
Flyer


Contact:
Prof. Dr. Markus Tauschek
Institute for Cultural Anthropology and European Ethnology
University of Freiburg
Tel.: 0761/203-3306
E-Mail: tauschek@kaee.uni-freiburg.de