Critical perspectives on expanding forensic DNA analyses
Interdisciplinary initiative organizes a symposium about risks and opportunities for a possible investigative tool
Freiburg, May 17, 2017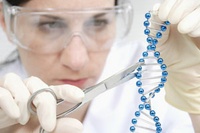 Photo: Gernot Krautberger/Fotolia
An interdisciplinary initiative by researchers coordinated by the Chair for Science and Technology Studies at the University of Freiburg has pointed to possible risks when using expanded forensics DNA analyses in police investigations in the scientific journal Nature. Organized by Prof. Dr. Anna Lipphardt, Institute for Cultural Anthropology and European Ethnology and Prof. Dr. Veronika Lipphardt, University College Freiburg, the initiative will address this issue at a symposium at the Freiburg Institute for Advanced Studies (FRIAS) at the University of Freiburg June 9-10, 2017. The symposium is directed at political decision makers, representatives of relevant practice fields such as the police or the judicial system and members of the scientific community. Interested media members are required to register by June 5, 2017 via e-mail to: petra.kraenzlein@pr.uni-freiburg.de.
The researchers expand on the following topics in their Nature correspondence: The probability of drawing appropriate conclusions about a person's external characteristics or biogeographic origins through DNA testing has been widely overestimated in current public debates in Germany – the method is less reliable and precise than originally thought, depending on the context of application. Especially the notion of biogeographical origin is considered problematic for societies shaped by migration and mixed heritage.
In addition, according to the initiators, this type of investigations would concentrate on characteristics that are rare in the respective population such as dark pigmented skin in Germany, for instance. Together with the imprecise nature of the analysis method and its application, this could lead to a disproportionate focus on minorities during investigations.
The researchers call for an independent body to monitor expanded forensics DNA analyses from a legal, ethical and scientific perspective, inasmuch as they will be applied in the future in Germany. In addition, it is essential that those law enforcement authorities who apply the methods be adequately trained when handling the analyses and the data acquired from them.
Original publication:
Fabian Staubach et al: Note limitations of DNA legislation. In: Nature 545, S. 30. doi:10.1038/545030c
The initiative's Web site focusing on critical perspectives on forensic DNA analyses (with a link to the symposium's Web site)
Contact:
Prof. Dr. Veronika Lipphardt
Department of Philosophy
University of Freiburg
Tel.: 0761/203-4415
E-Mail: veronika.lipphardt@ucf.uni-freiburg.de