Commitment to educational attainment
Foundations promote solidarity with support for the Deutschlandstipendium
Freiburg, Sep 27, 2017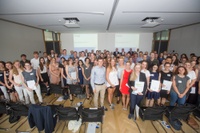 The current cohort of the Deutschlandstipendium at the University of Freiburg: scholarship holders and donors at the award presentation. Photo: Uwe Nüssle
The annual Day of Foundations, initiated by the Association of German Foundations, takes place on 1st October. This is the German contribution to the European Day of Foundations and Donors (EDFD) when activities take place in twelve European countries. One example of the engagement of foundations at the University of Freiburg is the Deutschlandstipendium, or national scholarship program: with their involvement in the national scholarship program, ten regional and interregional foundations not only support high-performing students but also promote young talent who undertake volunteer work alongside their studies or who are overcoming hurdles to forge a successful career. In addition they contribute to state and society working together to produce the specialists and management of the future.
One of the University of Freiburg students who is receiving support from a foundation is Marina Leibfried. She is studying Environmental Science and is receiving the scholarship for the third time for outstanding performance and social engagement. "I think that's what is special about the Deutschlandstipendium: it gives you a sense of esteem, it encourages and enables me and others to continue to be engaged in a meaningful and responsible way, to pass something on in gratitude – so the gifts are multiplied," says Leibfried. This is enabled by long-term funding from the Eva Mayr-Stihl Foundation, which supports the forestry and environmental work of the University of Freiburg. Its contribution to the Deutschlandstipendium is directed towards the entire student body and establishes the Eva Mayr-Stihl Foundation throughout the university in the field of Teaching and Learning.
In the current cohort, 107 students from the University of Freiburg are being supported by the Deutschlandstipendium. Young talent from all departments receive 300 euro a month, regardless of income. The unique aspect of the Deutschlandstipendium is that 150 euro is provided by private sponsors such as companies, foundations and private individuals. The other half is contributed by the federal government.
The following foundations support the Deutschlandstipendium at the University of Freiburg: Adelhausenstiftung (Freiburg), Alnatura Foundation (Bickenbach), Freiburg Alumni Endowment, Bayer Science & Education Foundation (Leverkusen), Eugen Martin Foundation (Freiburg), Eva Mayr-Stihl Foundation (Waiblingen), Evonik Foundation (Essen), Gips Schüle Foundation (Stuttgart), Henning Zügel Foundation (Waldkirch), New University Endowment Freiburg.

Information about the Deutschlandstipendium
www.deutschlandstipendium.uni-freiburg.de
www.deutschlandstipendium.de

Information about the Day of Foundations and Donors
www.tag-der-stiftungen.de


Contact:
Daniela Mast
Beziehungs- und Eventmanagement
Albert-Ludwigs-Universität Freiburg
Tel.: +49 761 203-67729
E-Mail: daniela.mast@zv.uni-freiburg.de