Bring Your Business Idea to Fruition
Entrepreneurship lecture series to start on 25 April 2017 at the Faculty of Economics and Behavioral Sciences
Freiburg, Apr 11, 2017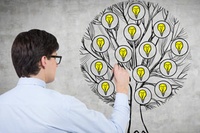 Photo: Fotolia
It takes more than a good idea to found a successful business. That's why the University of Freiburg Founders Office is holding a lecture series on entrepreneurship in the 2017 summer semester. Business experts will share their knowledge on the challenges and pitfalls of founding a new business as well as the possibilities and potential for entrepreneurs, report on their own experiences, and provide concrete tips. Moreover, owners of companies from various sectors will describe their own path to self-employment.
The series will begin on Tuesday, 25 April 2017. Lectures will be held each week from 6:15 to 7:45 p.m. during the teaching period in Collegiate Building 1, lecture hall 1009. The host faculty is the Faculty of Economics and Behavioral Sciences, represented by Prof. Dr. Dirk Neumann, assistant dean and entrepreneurship representative; Dr. Markus Strauch from the Freiburg Academy of Continuing Education is responsible for coordinating the content of the series.
The lecture series is open to the general public; lectures will be held in German. All lectures may be attended free of charge, and no prior registration is required even for external participants. Bachelor's students may earn ECTS credits for the "Professional Skills" area of their degree program. The lectures series is part of the University of Freiburg's "Windows for Entrepreneurship" strategy for strengthening the culture of entrepreneurship at the university.
More information:
Website of the Founders Office
Contact:
Prof. Dr. Dirk Neumann
Department of Business Informatics
University of Freiburg
Phone: +49 (0)761/203-2395
E-Mail: dirk.neumann@is.uni-freiburg.de
Rodica Schmidinger
Founders Office
University of Freiburg
Phone: +49 (0)761/203-98653
E-Mail: rodica.schmidinger@zft.uni-freiburg.de