A search for traces of the past after a century
Invitation to the press conference: Freiburg's "Russian Culture Days 2017" is offering a seven-week program on the Russian Revolution
Freiburg, Sep 27, 2017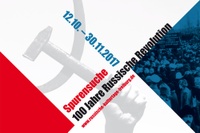 An entire city is coming together to collectively search for traces of an event that significantly shaped the course of world history during the 20th century: The "Russian Culture Days 2017" is taking place in honor of the 100th anniversary of the Russian revolution. The Zwetajewa-Zentrum, an institution run by both the University of Freiburg and the city of Freiburg, will present a seven-week program with contributions from science, music, art, film, literature and theater during the months of October and November 2017.


Prof. Dr. Elisabeth Cheauré, Head of the Zwetajewa-Zentrum, will introduce the initiative together with Dr. Dieter Salomon, mayor of the city of Freiburg, and Prof. Dr. Juliane Besters-Dilger, Vice President for Academic Affairs at the University of Freiburg during a
Press conference on October 5, 2017 at 3pm
in the Zwetajewa-Zentrum, Stadtstraße 5, 79104 Freiburg.
Around 20 scientific and artistic institutions in Freiburg will participate in the culture days. Amongst the program events are a lecture series, multiple premiere theatrical and musical performances as well as never before seen exhibits. A scientific conference will round out the program.


Contact:
Prof. Dr. Elisabeth Cheauré
Faculty of Slavic Studies/ Zwetajewa-Zentrum
University of Freiburg
Tel.: 0761/203-8320
E-Mail: elisabeth.cheaure@slavistik.uni-freiburg.de

Rudolf-Werner Dreier
Head of Public Affairs
University of Freiburg
Tel.: 0761/203-4300
E-Mail: rudolf.dreier@pr.uni-freiburg.de

Stefanie Werntgen
Spokeswoman for the Mayor's Office
Communications Director
City of Freiburg in Breisgau
Tel.: 0761/201-1010
E-Mail: stefanie.werntgen@stadt.freiburg.de