70,000 Euros for Students
Alumni Help Fund Student Initiatives and Projects at the University of Freiburg
Freiburg, May 22, 2017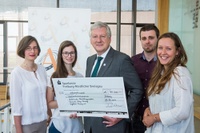 Caption: See press release
The Alumni Freiburg e.V. association, which provides financial aid to students, collected 70,000 Euros in funds through its Christmas and summer donation drives in the last two years. The former students of the University of Freiburg have chosen to donate this money to recipients of the Deutschlandstipendium scholarship program; the student-run initiatives for refugees Schlüsselmensch (a mentoring program), Uni für alle (University for All), Vorkurs für Geflüchtete (a pre-university language course for refugees), and Wissen+Welcome (a communication and cultural learning platform); along with the Nightline Freiburg student hotline and the University College Freiburg. "As the Chair of the Alumni Freiburg association, I am especially pleased that we can give support to so many student projects," said Rector Prof. Dr. Hans-Jochen Schiewer as he handed over the symbolic check. "My heartfelt thanks go out to all the donors for contributing to this positive result."
In the last few years, the involvement of alumni has had a large impact on the University of Freiburg. The Alumni Freiburg association, which collects roughly 150,000 Euros per year through donations and membership fees, was able to fund such projects as building a learning pavilion on the Schauinsland Mountain, constructing a stage in the Peterhofkeller, expanding the Uniseum (the University museum), and providing equipment for the Service Center Studium and the PhD Lounge. Furthermore, all University faculties honor students for their outstanding academic performance or community engagement every year with an alumni award. Alumni also provide funding for teaching materials as well as for student conferences, excursions, and scholarships. "As a result, alumni are significantly improving the study conditions in all faculties of our University," said Schiewer. Cultural activities for students, like the aka-Filmclub, theater groups, and the Uni Big Band, also receive funding.
The funds that were generated by the Alumni Freiburg association's Christmas and summer donation drives in the last two years will be supporting the following initiatives.
Deutschlandstipendium (48,695 Euros)
Supporting dedicated students, giving them incentive to do their best, and helping to remedy the shortage of specialists: These are all goals of the Deutschlandstipendium (Germany Scholarship), which was created by the German Ministry of Education and Research (BMBF) in 2011. This is how it works: Private sponsors provide a scholarship of 1,800 Euros per year, on top of which the BMBF adds another 1,800 Euros, increasing the scholarship to 300 Euros per month for each student. The Alumni Freiburg association has been supporting Deutschlandstipendium recipients at the University of Freiburg from the beginning. Thanks to their donations, both large and small, more than 100 students have received scholarships so far – 28 in the 2016-2017 academic year alone.
www.uni-freiburg.de/universitaet/foerdern-und-stiften/deutschlandstipendium
Student Initiatives for Refugees (8,750 Euros)
Several members of the University of Freiburg have launched initiatives to assist refugees, and University alumni help to provide funding for several of these projects. These include the language course Vorkurs für Geflüchtete (Pre-University Course for Refugees), and the work group Uni für alle, which helps refugees find their way around the University and assists them with auditing courses. Other programs that alumni support include the association Initiative Schlüsselmensch, which helps children and teenagers who have lost virtually everything to regain their self-confidence, courage, and happiness through fun activities, courses, and talking to others, as well as the program Wissen+Welcome (Knowledge+Welcome), which organizes short lectures in refugee centers and other relevant meeting places on topics of that are relevant to refugees' lives.
Vorkurs (Pre-university Course): www.pr.uni-freiburg.de/go/vorkurs
"Uni für alle" (University for All): http://unifueralle.jimdo.com
Initiative Schlüsselmensch (mentoring initiative)
Wissen+Welcome (communication and cultural learning platform)
University College Freiburg (UCF, 7,410 Euros)
The University of Freiburg was the first comprehensive university in Germany to found a university college in 2012. The courses taught at the University College Freiburg (UCF) are research-based and international. The University College Freiburg gives students the opportunity to explore a variety of academic perspectives before specializing in a certain field. The Alumni Freiburg association supports the community engagement and mobility of UCF students by financially enabling them to participate in international competitions, among other things. At the European Human Rights Moot Court Competition in 2016, for example, the UCF team placed 6th out of 79 participants and was the only team to not represent a degree program in law.
www.ucf.uni-freiburg.de
Nightline Freiburg (5,145 Euros)
Many students suffer from loneliness, examination anxiety, or relationship problems. Stress with roommates, conflicts with parents, and chronic illness can all seem overwhelming if it's hard, or seems impossible, to talk about it with friends or family. That's why the hotline Nightline Freiburg, a service that also receives funding from the Alumni Freiburg association, was launched in 2002. Students of all higher education institutions in Freiburg can call Nightline Freiburg every night from 8 p.m. to midnight, or they can reach the hotline by sending an email that is anonymized.
www.nightline.uni-freiburg.de
Caption:Rector Hans-Jochen Schiewer (middle) handing the check to Ines Bantle from Nightline Freiburg, the Deutschlandstipendium recipient Julia Nestlen, Andreas Stiefel from Schlüsselmensch, and Teresa Fachinger from the University College Freiburg (left to right). Photo: Klaus Polkowski