Small Proteins, Big Benefit
Biochemist Nils Wiedemann receives two million euros in funding from European Research Council
Freiburg, Mar 09, 2015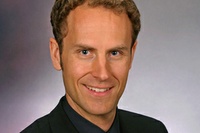 Nils Wiedemann and his team want to identify small mitochondrial proteins and elucidate their role in mitochondrial metabolism. Source: Private
Understanding metabolic diseases of the muscles and nerves: Dr. Nils Wiedemann, group leader at the Institute of Biochemistry and Molecular Biology of the University of Freiburg, has received a Consolidator Grant from the European Research Council (ERC). The prestigious award is worth two million euros. In the coming five years, the biochemist plans to conduct in-depth research on mitochondria, the powerhouses of the cell. Wiedemann and his team will collaborate with the proteome researcher Prof. Dr. Bettina Warscheid from the Freiburg Cluster of Excellence BIOSS Centre for Biological Signalling Studies and the metabolism researcher Dr. Bernd Kammerer from the Center for Biological System Analysis of the University of Freiburg.

The mitochondria in body cells contain roughly 1000 different proteins. These proteins catalyze innumerable metabolic pathways, such as the cellular respiration. Up to now, the large proteins have received the most attention from researchers. Now, however, the team wants to identify small mitochondrial proteins and elucidate their role in mitochondrial metabolism. They hope their findings will lead to a better understanding of diseases of the muscles or nerves brought on by a mitochondrial defect, such as Alzheimer's Disease.

The information for proteins is stored in the genetic material of the cells. Wiedemann succeeded in predicting numerous small mitochondrial proteins and demonstrated the function of several of them in experiments. Now the team aims to discover many new small proteins and explain their significance for cellular functions and diseases. Warscheid and her research group at the Faculty of Biology will track down numerous small proteins by measuring their molecular mass in mitochondria. Wiedemann's group will investigate the mitochondrial defects that appear when small protein molecules are missing in the mitochondria. Finally, the metabolomics group led by Kammerer will determine the significance of the defects for cellular metabolism by identifying the metabolic molecules.

Wiedemann is project leader in Collaborative Research Center 1140 "Kidney Disease – from Genes to Mechanisms (KIDGEM)" at the University of Freiburg Medical Center and the Freiburg Excellence institutions BIOSS Centre for Biological Signalling Studies and Spemann Graduate School of Biology and Medicine (SGBM). The ERC Consolidator Grant is among Europe's most prestigious research grants. Selection criteria include the quality of the proposed research projects as well as the academic profile of the researchers. In the current round of applications, about 15 percent of a total of over 2500 submitted applications in the areas physical science and engineering, life sciences, and social sciences and humanities will receive funding for the next five years.


Contact:
Dr. Nils Wiedemann
Institute of Biochemistry and Molecular Biology
University of Freiburg
Phone: +49 (0)761/203-5280
E-Mail: nils.wiedemann@biochemie.uni-freiburg.de


Printable version (pdf) of the press release.