Perennial flowering strips combined with hedges enhance wild bees best in agricultural landscapes
Constellation provides insects with continuous floral resources throughout the entire growing season
Freiburg, Sep 23, 2022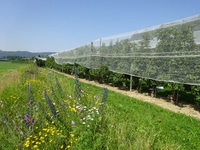 Perennial flower strips attract diverse bee communities over the years. (Photo: Vivien von Königslöw)
Farmers should create a network of perennial flower strips in combination with hedges to provide wild bees with a continuous supply of flowers. This is the recommendation of ecologists Vivien von Königslöw, Dr. Felix Fornoff and Prof. Dr. Alexandra-Maria Klein from the Institute of Earth and Environmental Sciences at the Faculty of Environment and Natural Resources at the University of Freiburg, following their research in apple orchards in southern Germany. They published their research results in the Journal of Applied Ecology.
Fewer wild bees due to lack of flowers
 "In intensive agricultural landscapes, wild bees have often become rare because of a low availability of flowers as nectar and pollen sources," explains von Königslöw. "A combination of flowering strips and hedges at the edge of production areas could compensate for this lack of flowers, because their flowering periods complement each other."
Enhance bee diversity through a network of perennial flower strips with flower-rich hedges
The research team compared the temporal development of flowering resources and wild bee communities in perennial flowering strips and hedgerows at the edge of 18 conventional apple orchards from 2018 to 2020. "Our results suggest preferential establishment of perennial flower strips rather than annual flower strips because perennial flower strips flower much earlier in the second year of establishment than in the year of sowing and attract different bee communities over the years. Thus, they are more suitable to enhance bee diversity. The best way to supplement the flower supply is with species- and flower-rich hedges," says von Königslöw.
In their study, the Freiburg ecologists observed that wild bees visited the hedges mainly in early spring and sometimes even into June. The flowering strips, on the other hand, were visited from June to August in the first year, but from the second year onwards they were visited as early as April. Overall, the number of bees and species diversity in the flowering strips was higher than in the hedges.
Fact Box:
Klein has headed the Chair of Nature Conservation and Landscape Ecology at the University of Freiburg since 2013. Her research focuses on bees and crop pollination and biodiversity restoration in agricultural landscapes.
Klein is a member of the DFG Permanent Senate Commissions on Fundamental Issues of Biodiversity and the DFG Permanent Senate Commissions on Key Questions of Genetic Research and serves on several advisory boards for the State government in Baden-Württemberg.
Original publication:
von Königslöw, V., Fornoff, F., Klein, A.M. (2022): Temporal complementarity of hedges and flower strips promotes wild bee communities in apple orchards. Journal of Applied Ecology. DOI: 10.1111/1365-2664.14277
933c41ddb5eba29a7ae4f3db357bacc3