Dr. Julian Rapp wins 2023 Albert Bürklin Prize
The Freiburg Academic Society is awarding a research prize for outstanding contributions to the humanities, social sciences, and law at a ceremony on 6 November 2023.
Freiburg, Nov 03, 2023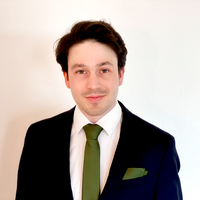 Albert Bürklin Prize, Dr. Julian Rapp. Photo: ZVG
The independent jury for the 2023 Albert Bürklin Prize selected Dr. Julian Rapp, a lecturer of the University of Freiburg's Faculty of Law, for his outstanding work in the areas of private law and civil procedure. The Advisory Board of the Academic Society positively valued, among other things, that the lawyer finished his academic training with top grades and is now working in a broad field of jurisprudence. They also noted he has written many books and essays while remaining close to legal practise and is active in teaching as well.
The ceremony – entitled Höhepunkte der Forschung (Pinnacles of Research) – will begin at 7 p.m. on 6 November in the Assembly Hall of the University of Freiburg (Collegiate Building I). The Chairman of the Academic Society, Prof. Dr. Karl-Reinhard Volz, and the Rector of the University of Freiburg, Prof. Dr. Kerstin Kriegelstein, will hold welcoming speeches. The award ceremony and laureate's lecture will follow. Rapp will give a talk entitled 'Noch nicht erledigt! Zur Restitution von NS-Raubkunst in Deutschland' ('Unfinished! On the restitution of art looted in Germany by the National Socialists[MOU1] ') Prof. Dr. Jennifer Andexer of  the Institute of Pharmaceutical Sciences of the University of Freiburg will deliver the keynote speech. The. EBE Ensemble of the University of Music Freiburg will provide accompaniment for the evening.
The Albert Bürklin Prize is named for the founding chairman of the Freiburg Academic Society and former honorary doctor of the University of Freiburg, Privy Councillor Dr. Albert Bürklin (1844-1924).  The 10-thousand-euro research prize is awarded every two years for outstanding contributions in the humanities, social sciences, and law. The  donor is the Freiburg Academic Society, which was founded in 1911. Since then, it has been supporting research at the University of Freiburg in many ways and across all disciplines.
Media contact:
University and Scientific Communications
University of Freiburg
Tel.: 0761/203-4302
E-Mail: kommunikation@zv.uni-freiburg.de
---
 [MOU1]Option: On the restitution National Socialist art looted in Germany. Das ist fast direkt übersetzt. Hier kommt es mir vor, als ob der Kunst von den Nazis geschaffen worden ist ... deswegen der veränderte wortstellung.