Chemist Laura Hartmann becomes professor at the University of Freiburg
European Research Council (ERC) supports research into recreating the glycocalyx, the coating of sugars that surrounds human cells
Freiburg, Mar 02, 2023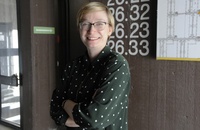 Laura Hartmann is the new professor of Macromolecular Chemistry at the University of Freiburg, her research focus is on biomimetic polymers. Photo: HHU/Hanne Horn
Prof. Dr. Laura Hartmann is becoming Professor of Macromolecular Chemistry at the University of Freiburg from March 1, 2023. A focus of her professorship will be on researching active soft materials, in particular those known as biomimetic polymers. Hartmann will work closely with the Living, Adaptive and Energy-autonomous Materials Systems (livMatS) Cluster of Excellence, the Freiburg Center for Interactive Materials and Bioinspired Technologies (FIT) and the Freiburg Materials Research Center (FMF).
Replicating glycocalyx from polymers
Hartmann has also just received a Consolidator Grant – one of the most prestigious awards for scientists in the EU – from the European Research Council (ERC). The EU grant brings with it almost two million euros over the next five years in support for her research into recreating the glycocalyx, a thick layer of sugars that coat our cells.
Her project "Glycan Mimetics for Cell Glycocalyx Reconstitution: a polymer chemist's approach to fight infection (GLYMCE)" aims to contribute to a better understanding of the glycocalyx: the layer of sugars that coat our cells can serve both as a protective barrier against infections, but can also act like an adhesive film for viruses and bacteria and thus contribute to the start of an infection. "Since the natural sugar structures are very complex, we are going to replicate parts of the glycocalyx from polymers – we will produce what are known as polymer glycan mimetics," says Hartmann. "We can use them to understand when the glycocalyx acts as a protective barrier, and when it contributes to an infection." In a subsequent step these polymers will then also be studied for their suitability as a means of preventing and fighting infections.
New strategies to fight infections
"Ever since the corona pandemic we've known how important it is that we continue to work on new strategies to fight not only old viruses but also new or future ones," says Hartmann. "This also applies to other pathogens such as bacteria, which are increasingly developing resistance to available antibiotics." Funding from the ERC Consolidator Grant will make it easier to work on this highly interdisciplinary and risky project, says the polymers expert. "You rarely get a chance like this – and the funding fits in beautifully with my move to Freiburg, where I'll be in the right setting for my project at the Institute for Macromolecular Chemistry and close to the FMF and FIT."
Laura Hartmann studied chemistry at Cologne and Freiburg. She took her doctorate at the Max Planck Institute for Colloids and Interfaces and qualified as a professor at the Freie Universität Berlin (FU) with a paper on glyco-macromolecules and glyco-hydrogels. Previously she has received the Emmy Noether Award from the German Research Foundation (DFG), Plus3 funding from the Boehringer Ingelheim Foundation and the Heine-Frau award from the University of Dusseldorf's gender equality office. Hartmann was Professor of Macromolecular Chemistry in Dusseldorf from 2014.
Contact:
University and Scientific Communications
University of Freiburg
Tel.: +49 761/203-4302
E-Mail: kommunikation@zv.uni-freiburg.de