State election in Saarland: 'WahlSwiper' electoral tool online from today
App produced by Freiburg political scientist Uwe Wagschal's team being rolled out for the 21st time
Freiburg, Feb 17, 2022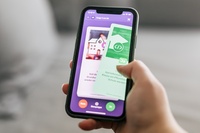 The WahlSwiper app's aim is to aid voters in decision-making ahead of state parliamentary elections. Photo: Sandra Meyndt
From today, 17 February 2022, anyone who wants can use a scientific tool designed to assist their decision-making with regard to the state election on 27 March. The free app WahlSwiper – developed by a team of 10 headed by political scientist Prof. Dr. Uwe Wagschal (University of Freiburg) alongside the agency MovAct – takes users through politically controversial questions in a clear and informative way. At the end, based on their answers, users can see which parties best represent them. "This state election is especially interesting for voters as well as for observers because polls indicate a tight race – and the first state election following national, Bundestag elections is also an important indicator of the popular mood," says Wagschal.
WahlSwiper asks a total of 36 questions covering 18 policy areas. This includes questions such as: Should the mandatory primary school qualification be reintroduced? Should the voting age for state elections be reduced to 16? And: Should there be a speed limit of 60 km/h on Saarbrücken's entire urban motorway? WahlSwiper is available as an app for mobile and tablet, and can also be accessed via the wahlswiper.de website. This is the 21st time that the app has been rolled out; it was last used for the 2021 Bundestag elections.
"Our aim is to support voters scientifically yet playfully with their voting choice – and at the same time strengthen interest in politics and political discourse," says Wagschal. The questions come with brief introductory videos and explanatory texts. Users can answer questions with a yes or no, and also give them double-weighting if they feel they are especially relevant. They can also skip questions.
Comparison with party manifestos
Analysis takes the form of a mathematical comparison with answers given by the parties to the 36 questions. Users can then see the percentage by which their answers match those of the parties. They can also delve deeper and investigate how each of the parties explains their position. The scientists use the anonymized data for further research, into things such as which parties resemble each other, or levels of approval on individual themes.
About WahlSwiper
WahlSwiper is published by and the responsibility of VoteSwiper, an association founded to promote democracy and political education.
Wahlswiper: www.wahlswiper.de