Absolute academic freedom and promotion of early career phases
New FRIAS Board of Directors presents its plans
Freiburg, Oct 28, 2022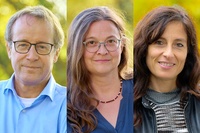 New FRIAS Board of Directors: Ralf von den Hoff, Veronika Lipphardt and Barbara Di Ventura (from left to right). Photo: Markus Schwerer
Every year, around 40 to 50 outstanding scientists from Freiburg and many other countries around the world come to FRIAS-Freiburg Institute for Advanced Studies as fellows, where they can spend six to twelve months conducting research and developing their scientific projects in an international environment. Intensive work, lectures and lively debates on current social, political and scientific issues as well as public events characterize life at FRIAS. Founded in 2008, the Institute has become a world-renowned flagship of the University of Freiburg and has attracted a number of top international researchers. The fact that this also promotes the careers of highly qualified Freiburg researchers is a further strength.
As of October 1, 2022, the classical archaeologist Prof. Dr. Ralf von den Hoff has assumed the office of full-time director at FRIAS. The three-member board of directors is completed by the part-time speakers Prof. Dr. Veronika Lipphardt (historian of science / social sciences) and Prof. Dr. Barbara Di Ventura (biologist / natural sciences). Von den Hoff has taken over the position from Prof. Dr. Bernd Kortmann.
"Innovative research ideas are developed, tested and implemented at FRIAS. It is a place of absolute academic freedom and forward-looking research in an inspiring community of researchers," says von den Hoff, who himself was a Research Fellow at the then School of History at FRIAS between 2012 and 2014.
Von den Hoff is heading a successful collaborative research center
Von den Hoff has been Professor of Classical Archaeology and Director of the Archaeological Collection at the University of Freiburg since 2006. Previously, after completing his doctorate in Bonn, he worked for many years at the Archaeological Institute of the University of Munich, where he habilitated in 2000. As a fellow of the Alexander von Humboldt Foundation, he spent a year as a visiting professor at Johns Hopkins University in Baltimore. Since 2012, von den Hoff has been spokesman for the Freiburg Collaborative Research Center (SFB) 948 "Heroes - Heroisations – Heroismen" from the German Research Foundation (DFG), which will continue to study the significance of heroes and heroines from antiquity to the present until 2024. In addition, von den Hoff is very well connected as a member of numerous scientific committees and organizations.
The new board of directors' plans
In addition to the international fellowships, FRIAS offers numerous funding opportunities for Freiburg researchers. These include funding for project groups that support research ideas at an early stage, one-year research focuses in which interdisciplinary collaborations open up a thematic field. The Freiburg Research Collaboration Programme (FRESCO) aims to create long-term collaborations between excellent researchers from Freiburg and renowned national and international colleagues.
"In future offerings, we want to focus even more on supporting scientists in the early stages of their careers, because their ideas shape the future," says von den Hoff. 
At the beginning of its term, the new board of directors wants to pay special attention to the issue of academic freedom. "The freedom of science is in danger, and its threat has many facets: from the aggressive rejection of scientific findings to the personal endangerment of scientists," says von den Hoff. "We want to rise against this and consolidate FRIAS as a place for freedom and open exchange." Thus, he says, ways will be sought to continue to give researchers suffering from acute threats to science, such as those currently from Ukraine, space for their work. FRIAS had already facilitated new funding for this purpose in the summer of 2022. In addition, a series of public lectures, the 'Lunch Lectures' will be devoted to the topic of academic freedom in the 2022/23 winter semester.
FRIAS as part of the strategic process at the University of Freiburg
Another concern of the new directorate is an even stronger integration of the life and natural sciences in the activities of FRIAS. "With the Staudinger Lectures, there is an established format that has already invited 29 Nobel laureates to give lectures at the University of Freiburg," says Di Ventura, the responsible board spokesperson. In the Young Academy for Sustainability Research (YAS), based at FRIAS, the natural sciences, humanities and social sciences are also work closely together on urgent issues and topics. "In the future, we want to create offerings in exchange with the natural and life science institutions that will benefit their researchers in Freiburg and beyond, and also in exchange with other research fields," Di Ventura explains.
"In the medium term, one goal of FRIAS is to help shape the ongoing strategic process at the University of Freiburg," says von den Hoff. "In addition to contributions to the University's excellence strategy, this also includes strengthening the University of Freiburg's research priorities and other outstanding research projects."
Ceremonious farewell of the outgoing to the departing board of directors
Ralf von den Hoff succeeds the Anglicist and linguist Prof. Dr. Bernd Kortmann in his function as spokesman of the board of directors at FRIAS. The latter had led the Institute for almost ten years and secured sustainable funding for FRIAS. Kortmann and the two other outgoing members of the board of directors, Prof. Dr. Annegret Wilde and Prof. Dr. Günther Schulze, will be given a ceremonious farewell on November 2, 2022, starting at 6:30 pm in the anatomy lecture hall next to the FRIAS building.
More information about the Freiburg Institute for Advanced Studies (FRIAS)
The Freiburg Institute for Advanced Studies is the international research college at the University of Freiburg. As an integral part of the University, the Institute unites the humanities and social sciences as well as medicine, life sciences, natural sciences and engineering under one roof. The Institute was established as part of the Excellence Initiative of the Federal Ministry of Education and Research (BMBF) and the German Research Foundation (DFG) and opened summer semester 2008. FRIAS is considered a role model by many research-strong universities around the world that want to open their own international research college and is therefore visited by delegations and consulted in start-up phases. FRIAS is a member of the Networks of European Institutes for Advanced Studies (NETIAS) as well as the worldwide network University-Based Institutes for Advanced Study (UBIAS).


Contact:
Dr. Max Bolze
Freiburg Institute for Advanced Studies
University of Freiburg
Tel. +49 761 203 97407
max.bolze@frias.uni-freiburg.de
Press images for download
| | |
| --- | --- |
| | Ralf von den Hoff. Photo: Markus Schwerer |
| | Veronika Lipphardt. Photo: Markus Schwerer |
| | Barbara Di Ventura. Photo: Markus Schwerer |