Taking an Active Role, Working, and Thinking Together
The online registration for new courses at the Center for Key Qualifications starts October 2, 2019
Freiburg, Sep 23, 2019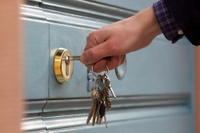 Photo: Baschi Bender
With its new theme "Mitgestalten – Mitarbeiten – Mitdenken," which means "Taking an Active Role, Working, and Thinking Together," the Center for Key Qualifications (Zentrum für Schlüsselqualifikationen, ZfS) at the University of Freiburg is focusing on a variety of aspects concerning the new world of work in its new program of more than 170 classes and events. Bachelor and law students can register for courses online starting October 2, 2019. All other students registered at the University can sign up for classes depending on availability starting October 21, 2019.
The new world of work depends more and more on us having good self-management skills. But what does this mean for us as individuals – for how we live our lives – and what does it mean for society? Students are encouraged to define their own opinions and positions in the course "Ethische Herausforderungen der neuen Arbeitswelt" (Ethical Challenges of the New World of Work), which is taught by a counselor trained in systems theory and a doctor of theology.
Is it possible to understand how search algorithms or cryptocurrencies work without having a special knowledge of IT? In the module "Algorithmen, Google, Facebook und Co" (Algorithms, Google, Facebook and More), students can use their creativity to develop a further education concept in digital education for a self-chosen target group.
CRS stands for corporate social responsibility and is the subject of the course "Arbeitsfeld Fundrainsing und gesellschaftliches Engagement" (Working in Fundraising and Civic Engagement) in which students learn why companies would profit from becoming more involved in social issues, while also helping to conduct a practical study.
Do you want to share good stories, for example by publishing them on Instagram or Snapshot? You can learn how from a social media editor from ZDF Digital in the course "Digitales Storytelling – Produktion visueller Inhalte mit dem Smartphone" (Digital Storytelling: Producing Visual Content with Your Smartphone).
The new theme of taking an active role, working, and thinking together is also the focus of the Center's so-called Service Learning module. The idea behind this module is for students to take an active role in civil society by becoming involved and helping to change things. Students can chose from five different areas: digitization, life and environmental sciences, intercultural relations and migration, environment and sustainability, and political lobby work. While volunteering in one of the more than 35 projects, students can reflect on their experience in workshops, where they also learn new approaches, and by discussing their work with supervisors. A new feature of this program is the interdisciplinary conference, which is held at the end of the module. Together with participants of the seminar "Verantwortung in der Zivilgesellschaft" (Responsibility in Civil Society) offered by the Center for Basic Studies in Ethics and Philosophy (Ethisch-Philosophischen Grundstudium, EPG) and the three seminars in the program "Wissenschaft – Technologie – Gesellschaft" (Science – Technology – Society) at the University College Freiburg (UCF), students participating in the Service Learning module explore what social and ethical issues are associated with new scientific and technological developments.
Program (in German) and more information
Contact:
Waltraud Ziegler
Center for Key Qualifications (ZfS)
University of Freiburg
Phone: +49 (0)761 / 203 - 9473
zfs-info@zfs.uni-freiburg.de