The Africa Policies of Germany and France
Sigurd Rothe receives Excellence Award of the Franco-German University for his Master's thesis
Freiburg, Jan 29, 2018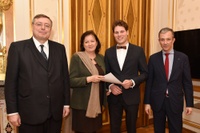 From the left: Embassy Envoy Pascal Hector, Claude-Anne Savin of ARTE, award winner Sigurd Rothe, and Franco-German University (FGU) President David Capitant at the awards ceremony at the German Embassy in Paris. Photo: FGU
Applied Political Science major Sigurd Rothe's award-winning Master's thesis is entitled "Alternating Perspectives on the Contemporary Africa Policies of Germany and France – Is There Potential for a Joint Approach?" He was presented the Franco-German University (FGU) Excellence Award at the German Embassy in Paris. The 1500 euro cash prize is financed by economic stakeholders from a range of sectors. In Rothe's case, the donor was the Franco-German cultural broadcaster ARTE. The honor is given in recognition of outstanding graduates of the binational and trinational programs of study sponsored by the FGU.
In his final paper, Rothe spotlights the main controversies of German and French policy towards Africa. These include the proportional relationship between civilian and military engagement, and the inclusion of multilateral missions as opposed to unilateral intervention, as well as the role of crisis prevention. Rothe views the engagement of Germany and France in Mali as type of test case for the future shaping of Franco-German, and ultimately European, policy towards Africa.
"Applied Political Science" is a joint Bachelor's and Master's program of the University of Freiburg and the "Institut d'Études Politiques d'Aix-en-Provence." The five-year course of study culminates in a joint Franco-German degree. The program components include two six-month internships. Among the places Rothe absolved this requirement are the French Chambers of Trade and Industry in Marseille and the German Embassy in Nairobi, Kenya. The course offering is interdisciplinary and encompasses, for example, the intellectual perspectives of law, economics, and cultural studies.  "What I particularly enjoyed was the dual nationality I experienced every day – meaning the Franco-German composition of the course," reports Rothe. "I really had a whole lot of fun taking a Franco-German course of study, and I'd do it again every  time," he adds.


FGU Press release
www.dfh-ufa.org/aktuelles/pressemitteilungen/pressemeldung/news/verleihung-der-exzellenzpreise-der-deutsch-franzoesischen-hochschule

FGU videos on the award winners
www.dfh-ufa.org/unternehmen/exzellenzpreis/preistraeger

Information about the Applied Political Science program
http://portal.uni-freiburg.de/politik/studium/studiengange/b-a-angewandte-politikwissenschaft-dt-franz