The clothes make the person
During a GPS rally students search for sustainable places in Freiburg
Freiburg, Jan 24, 2018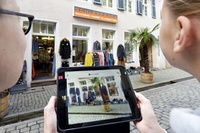 Photo: Thomas Kunz
How many pieces of clothing does the average German purchase per year? Where does the majority of textiles sold here come from? How far does a typical T-shirt travel to reach the German market? A team from the department of political science wants to raise students' awareness for sustainability by sending them out on a GPS rally.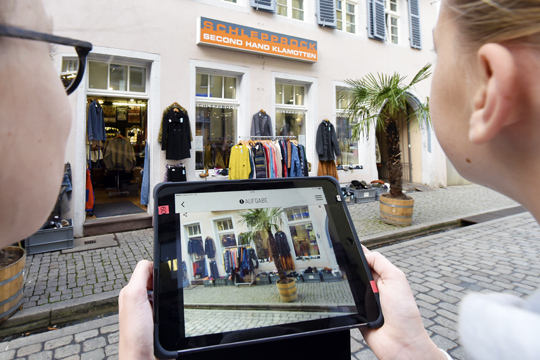 Next stop second-hand shop: The tablet provides information about the production, durability or quality of the clothing. Photo: Thomas Kunz
Sustainability. A word that makes most people pause for a moment, especially teenage students. Simon Straub, political science student from the University of Freiburg and freelancer for the Center for Political Education, asked the eighth graders at the Realschule Obersulm how sustainable their clothing was. The task was to arrange them throughout the room according to a sustainability scale. Most of them were rather realistic and placed themselves on the "less sustainable" side of the room. "What exactly is sustainability again?" someone asked. Straub explains to the 13- and 14-year-olds the various meanings of the word whose origin can be found in forestry. "In this way the young people are sort of forced to position themselves," he says.
Around age 13 or 14 young people begin shopping on their own and start to develop their own brand awareness. All you have to do is look around the group of 26 students to discover that "Adidas" seems to be a popular brand in Obersulm, not far from Heilbronn. But "Nike" and "Hollister" seem to pull their weight too.
In order to help adolescents become more aware while clothes shopping and to stimulate their thinking about consumer behavior in general, the students for one of Dr. Astrid Carrapatoso's projects for the department of political science came up with something: a GPS rally through Freiburg's city center. Together they developed a tablet-guided city tour that focuses on sustainability issues such as resource use, consumer behavior and environmental impact. Astrid Carrapatoso speaks of its "experiential character with geo-caching elements". After spending two semesters working on the idea, it was time to put it into practice.
Virtual stop in the city
The students form smaller groups and set off. Only the tablet knows the way as each tour is different, even when comparable points are added. Just in case, Straub gives each team a group ticket for the streetcar and an emergency number in the event they get stuck. One stop is the Kaiser Joseph Straße, Freiburg's main shopping drag where branches of nearly every large textile chain store are located. The GPS-guided tour, which is designed to take about an hour, leads the young students to a shop with organic clothing and a second-hand store.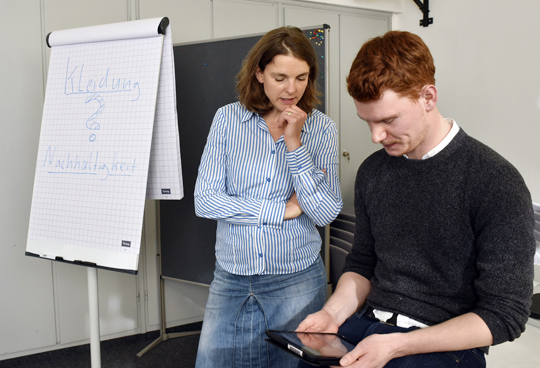 Astrid Carrapatoso and Simon Straub test the routes before the GPS rally. Photo: Thomas Kunz
At each stop they receive all kinds of information about the clothing's production, durability or quality and, to some extent, their devastating environmental impact. For example, in a movie deposited for them, students learn that two-thirds of Greenpeace-tested garments contain hazardous chemicals. And worse: as early as the production phase these substances enter rivers, lakes and oceans.
So as not to make the tour entirely morally depressing, Carrapatoso and her team opted to take a didactically contemporary approach. The students were asked to select the craziest item of clothing and take a picture of it. In another shop they were asked to look for the organic or fairtrade seal. They had to answer quiz questions too: Where does the majority of textiles sold here come from? (Turkey, China, Bangladesh.) How many pieces of clothing does the average German purchase per year? (12 kilograms.) How far does a typical T-shirt travel to reach the German market? (20,000 kilometers.) The alternatives? Instead of tossing clothes, repair them, trade them with your friends or make them yourselves – or pay attention to fair trade and environmentally friendly products.
Finally, the crucial question
"For the most part, you all completed the assignments well," praises Straub in the post-rally briefing. "Unfortunately, the locating function was horrible today." As a result, the students weren't able to reach all the targets within the time given and therefore ran out of time. "It went nutso," says a student with a raised brow. Several of the students learned about the issue of sustainability while clothes shopping and seemed at least to think more strongly about their consumer behavior now. What they choose to do with that knowledge is up to them. One participant got to the heart of the issue: "I'd rather have quality and not buy so much garbage every week." From an educational standpoint did they reach their goal? Simon Straub tests it out by posing the most crucial question of all: "Would you shop differently now, knowing what you do?" – "Nah," a young boy shot back in no time. "It's more important to look good." Hmm…Sustainability isn't so easy after all.
Alexander Ochs
Success during the "Campusweltbewerb" (campus world competition)

Dr. Astrid Carrapatoso from the department of political science at the University of Freiburg had a winning concept in the "Campusweltbewerb" (campus world competition) from the State of Baden-Württemberg. She is collaborating on the project together with the State Center for Political Education, the Sustainability Center Freiburg, Freiburg Advanced Center of Education and the City of Freiburg.