Studying interculturally
A partner program between the Universities of Freiburg and Buenos Aires enables Biomedicine students to obtain a double master degree
Freiburg, Apr 08, 2019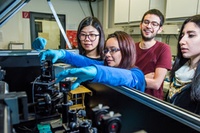 Can you study in two countries and get two degrees at the same time? Yes, you can – via a new partnership between the Universities of Freiburg and Buenos Aires, Argentina. The International Master of Science Biomedical Sciences (IMBS) degree offers young researchers a wide spectrum of biomedical training options. At the same time, the multinational approach gives students fresh perspectives, both scientifically and culturally.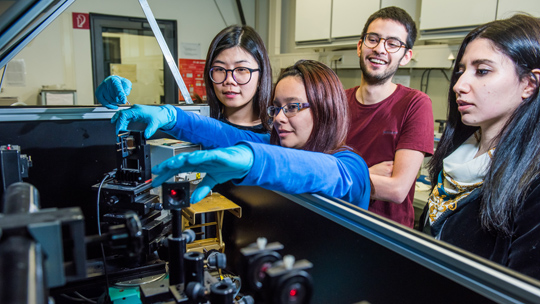 A wide selection: Microsystems Engineering is one of ten disciplines students of Biomedical Sciences can obtain knowledge in. Photo: Klaus Polkowski 
The Master's program between the University of Freiburg, Faculty of Medicine and the University of Buenos Aires, Faculties of Medicine and of Pharmacy and Biochemistry developed in the early 2000s and was launched in 2008. What began as an exchange of  medical students became more and more formalized, until the idea of a Master's program was born. "The idea was to get to know one another better - scientifically and culturally - from the very start," says Christoph Borner, Professor at the Institute of Molecular Medicine and Cell Research in Freiburg and Director of the German side of the Master's program.
Career options
However, Borner points out that the university in Buenos Aires is not an official University of Freiburg partner. "We have a framework deal and a specific agreement for this program," he says. A special feature of this partnership is that since 2018 the students have been receiving a degree from both universities and been trained interdisciplinarily and interculturally. "Two Master's certificates are a big advantage. A German Master's degree is still of great value around the world. And I think it gives our graduates better career options."
Another reason for many international students to choose this Master's degree is that it has a broad scope of subjects taught in English. The course plan covers not only Biochemistry and Cell Biology, it also takes in Pathology, Pharmacology, Immunology, Cardiology, Oncology, Microsystems Engineering, Biostatistics and Bioethics. This means the students can later specialize in the area which interests them most. Master's student Tijani Olawale confirms that most programs only offer one research direction. "But the partnership program opens up various options, and anyone can decide for him or herself which area to specialize in."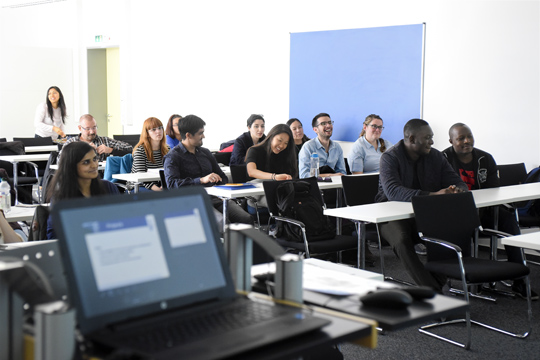 The Master's program is attractive for many international students - they see advantages in the job market if they have two Master's certificates. Photo: Thomas Kunz
Theory and practice go hand-in-hand
In addition, the faculties of the two institutions work together closely - the classes taught by the professors complement each other. "The courses in Buenos Aires are mainly theoretical, while we predominantly teach practically," Borner explains. "So it is good that the students first spend eight months in Buenos Aires and become familiar with the basic theory. Then they come to Freiburg and do primarily practical work here. This way it all goes hand-in-hand. Student Ignacio Gonzalez Perez affirms that this binational cooperation is a boon. "There is a good exchange between the two universities and you can share your ideas, your experience and your research plans with one another."
Following the Master's degree, the program opens up further prospects for starting a scientific career. Along with teaching, professors in both cities offer research options for doctoral candidates. Anusha Venkatraman, a graduate of the program and now a doctoral candidate at the Spemann Graduate School for Biology and Medicine (SGBM) in Freiburg, sees the comprehensive funding for research projects as one of the most positive things. "Germany invests a lot of money in research and you can see that in the faculties and the research areas." Earning a salary is a big advantage, too, for many doctoral students. "We get the same salary as normal employees. That is not something doctoral researchers get in every country," says Maria Gabriela Rincón, also an IMBS graduate and now a doctoral candidate in the SGBM program. She also thinks it's important that the research funding in Germany comes from public research foundations. "These structures make it possible for us to work independently of the political conditions and developments." In Argentina, she says, she sometimes gets the feeling that politics has a strong influence - sometimes preventing independent research.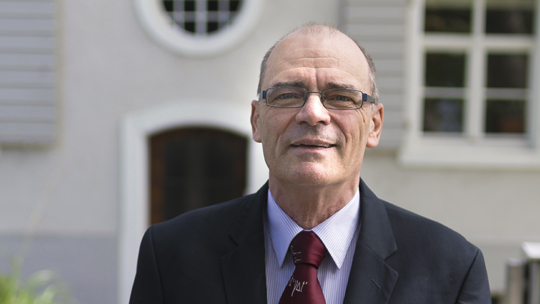 Along with scientific training, there is a lot of cultural learning, says Christoph Borner, director of the German Master's degree program. Photo: Jürgen Gocke
Learning German and Spanish
Along with the science, the students benefit from the program's intercultural offerings. For example, they have to learn both national languages, German and Spanish. "I think that is part of the program's charm - that along with scientific training, there is a lot of cultural learning," says Borner. Rincón, too, has got to know many people from different cultures. "That is maybe my best experience here."
The admission requirements for the Master's degree program are a Bachelor of Science, at least B2 English skills, and a particular average grade. In addition, all applicants must prove a year of professional experience. That may be in government service, at the university or in business. "This means we are targeting people who have already worked and now want to obtain further qualifications, says Christoph Borner. "That's another thing that makes our programs so attractive."

Maleen Thiele