Learning by live online transmission
Freiburg's Political Science teaching is increasingly digital
Freiburg, Jan 09, 2018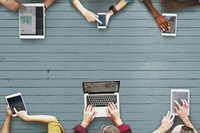 Photo: Rawpixel/Fotolia
An e-learning module with six participating universities, an app that allows you to assess political debates on the TV, a quiz about the US governmental system that is also relevant to examinations: the Department of Political Science at the University of Freiburg is offering original online teaching formats.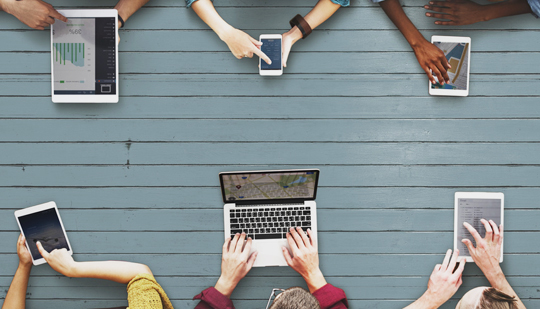 Photo: Rawpixel/Fotolia

Over the course of the G8 Reform the age at which students enter university has fallen. Perhaps the attention span of their generation has also fallen? Freiburg political scientist Ingo Henneberg doesn't share this cultural pessimism, but he is adapting to these younger students.
To start with, Henneberg entices them with bite-sized treats, explaining complex or abstract content such as categories of power using current viewing material. After the PhD student used extracts from the hit US series Game of Thrones and House of Cards to do this, he experienced quite a response online. One mini announcement on Facebook became a larger story than Henneberg had expected. "In the end it's maybe ten or fifteen minutes teaching time," he relativizes. "You have to use these elements in the first semester in particular. In some cases their studies are the first time they have heard the word 'theory'. Political Science is a very empirical, theory-led subject. And independent empirical work is too much in the first semester, so we try to introduce theories to the new students this way."
The lecturers have changed many things in the past few semesters – but it hasn't always been a success from the start. A few years ago they launched an exercise that was offered in parallel to the Introduction to Political Science course. Henneberg himself taught the exercise once and registered a vague sense of dissatisfaction – on both sides of the lecture room. The ratings were generally mediocre. "It didn't really grab the students," he comments. And the lecturers weren't happy either. When another chair was added to the institute, they seized the opportunity to restructure. Since 2016 one member of staff from each of the five subject areas of Freiburg's Political Science attends the session, with the aim of showing the students the outlines from the start, as what you might call orientation for the coming semester.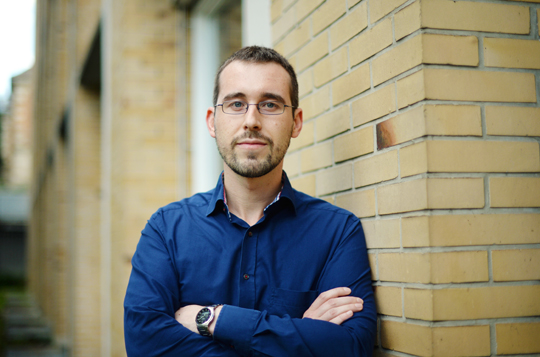 Intercollegiate seminars in which teachers and students communicate via live transmission, and interactive learning modules that make the knowledge available to everyone: "That was the great benefit of digital technology for me until now," says Ingo Henneberg. Photo: Patrick Seeger
Qualifying for e-learning
However, a lot is also happening besides classical teaching, Henneberg reports. For example, his colleague Dr. Christoph Haas, administrative officer for the Chair of Comparative Governmental Teaching, is integrating interactive elements in his courses: he playfully sets questions about US governmental system terms that are relevant to examinations in a quiz.
Today, all German universities use online learning platforms, however, it started with simply providing texts online, a sort of PDF blunderbuss. Of course much more is possible now: "In our computer center we have the e-learning department, which also offers CPD for teachers," Henneberg points out. The higher education teaching center also supports the lecturers and together with the computer center offers the e-learning qualification program. This is a multi-stage process in which lecturers learn in detail how to incorporate online content into their teaching. Henneberg completed the whole program and passed with success. It consists of a series of courses plus an implementation model, and takes at least one year.
Direct Feedback
Henneberg's boss, Diana Panke, who holds the Chair of Governance in Multi-level Systems, has developed an e-learning system that supports with learning research design. This involves fundamental questions such as what method would help to answer a specific question. "Of course you can also read it in a book. But this way you can learn the material using quiz questions – and unlike a book you get direct feedback," explains Henneberg. Dr. Friedrich Arndt, Dr. Judith Gurr and Dr. Anna Meine from Political Theory have developed a series on the qualification program that shows podcasts and screencasts. It's called Theoretisch fragen and gives students tips on their approach, on how to choose a subject and formulate a research topic, and on academic work. At the Chair of Comparative Governmental Teaching they have been working for more than a year on the Debat-O-Meter – an app that audience members can use to rate political debates on the TV in real time.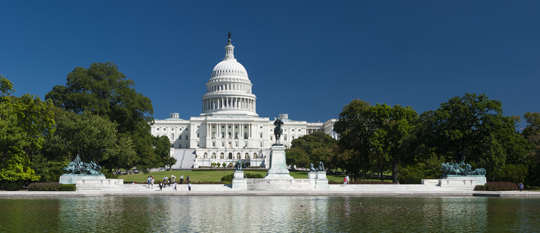 What was that about the system of 'Checks and Balances' again? A quiz helps students to familiarize themselves with US governmental system terms that are also relevant to examinations. Photo: kropic/Fotolia
Henneberg also tried something new for a couple of semesters: a cross-site teaching course on the subject of IS, the Islamic State, which took place simultaneously at several universities. All those involved – both students and lecturers – were linked up via video platform, making it possible to give a presentation or pose questions just like in a live television broadcast. The whole idea arose out of necessity, says Henneberg, "The few experts that there were at that time were spread all round Germany."
Taking the teaching platform to its limits
Yet the political scientist topped this teaching format in summer semester 2017 with the simultaneous seminar Is peace in Europe endangered? At the heart of this was a video conference, and all the preparations for the eventswere carried out by this medium. "With more than 100 intercollegiate work groups we took the teaching platform to its limits. It was a real teaching experiment." International experts can also be involved via video.
In order to make the results of the 'experiment' accessible to an even larger group, the lectures and contributions to the seminar were compiled into interactive learning modules, available to all since early 2018. "That was the great benefit of digital technology for me until now. Including in relation to sustainability and inclusion," remarks Henneberg. He is happy that he can spread the work of the participants beyond the universities – and also about "the massive motivation of the students". Afterwards of course they can watch their favorite series again – but perhaps with different eyes.
Alexander Ochs